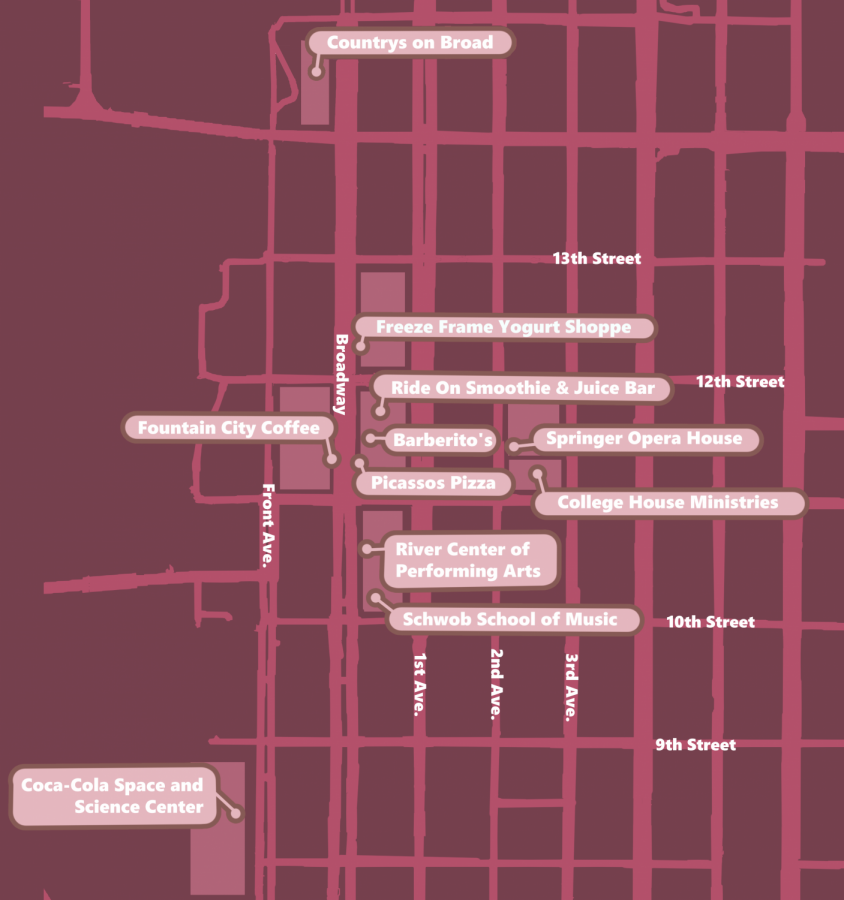 Riverpark Campus, located in downtown Columbus, is situated near a variety of businesses that offer student discounts on food and activities, as well as organizations that provide students free meals on specific days. CSU students can take advantage of several of these offers by utilizing the list compiled here. For those located on Main Campus, the CSU bus system provides regular transportation between campuses and to the Piggly Wiggly grocery store in midtown.
Restaurants offering a 10% student discount:
Fountain City Coffee
Freeze Frame Yogurt Shoppe
Restaurants and organizations offering weekly discounted and free meals:
Country's on Broad
Students get 50% off on Monday
The Abbey
Free lunch for students on Tuesday from 11:30 to 1:15
Ride On Smoothie & Juice Bar
Students get 15% off on Tuesday
Picasso's Pizzeria
$2 slices on Tuesday
Barberito's
Buy one entree, get one free on Wednesday
College House Ministries
Free lunch for students on Thursday from 12 to 1:30
Free and discounted activities:
Coca-Cola Space & Science Center
Free admission on astronomy nights or $3 tickets
The RiverCenter for the Performing Arts
Student rush tickets are 30% to 50% off on the day of the show.
Schwob School of Music
Free admission for students to most events
The Heritage Art Center
James Etchison's Comedy Open Mic, free every Monday
Springer Opera House
Discounted student tickets, and student rush tickets are $10 on Thursday