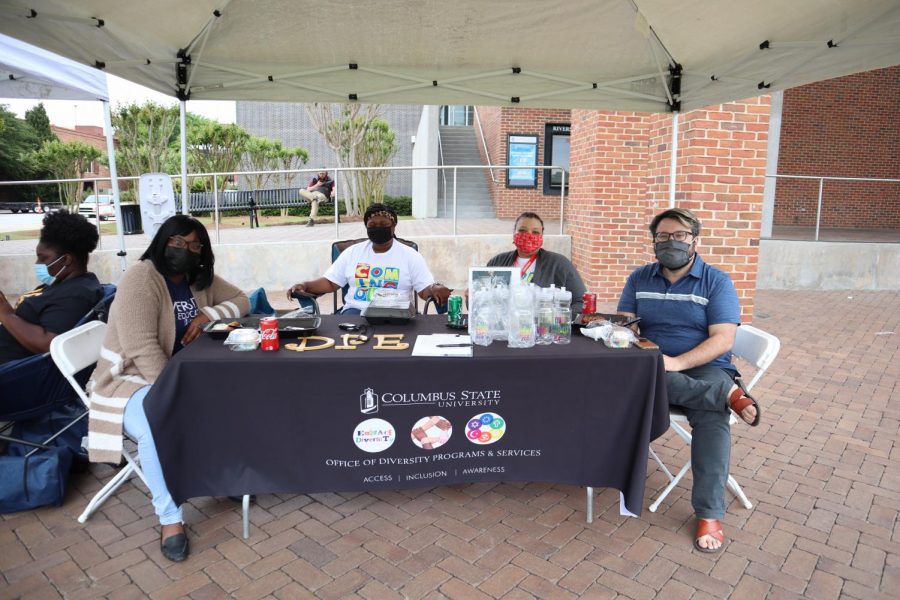 Vinh Huynh
   As the semester ends and students prepare for finals, Columbus State University closes the semester by celebrating its students in the LGBTQ+ community. Although Pride month is traditionally recognized in June, CSU and Diversity Programs and Services celebrated Pride in April, creating a safe space for discussions about LGBTQ+ issues and topics. 
  CSU's honorary Pride Month included events that were entertaining and educational. The month kicked off with Pride Week, beginning on Monday, April 12, with "Dear Younger You." During this event students could write letters to their younger selves, offering words of encouragement and a look into a better future where students feel more comfortable expressing themselves. 
  "Our week of Pride events will help to inspire and create a safe atmosphere by letting our students know they belong and are welcome at CSU," stated Johnnae Roberts, the student development coordinator. 
   "We are hoping to facilitate conversations surrounding people being their authentic selves wherever they are," she continued. 
   During the event,"Bottled Up with Pride," students could receive a monogrammed water bottle to show pride in their identity as members of the LGBTQ+ community. Diversity Programs and Services also hosted "Out in the WorkPlace," which introduced a panel of CSU Alumni that shared their experiences as members of the community in a professional setting. 
   On April 14, CSU hosted the "Color of Queens." This event celebrated the creativity and self-expression of students, offering the opportunity to design masks and put on drag makeup. "Movie on the Green," which took place on April 15, showcased the movie "Rent," which tells the story of six individuals dealing with their sexuality, identity, love, and loss in the 1990s at the height of the AIDS crisis. 
   The final event of the week was "I'm Coming Out Cookout." During this event, students in the community and LGBTQ+ allies could enjoy food and music at Woodruff Park to celebrate CSU's honorary Pride Month.
   "The biggest tip is to go at your own pace. Your journey is your own and when you feel comfortable to attend, come," said Roberts when asked if she had any words of encouragement. "Just know that when you come, you are in a space where you are free to be who you are, and we want to see you."