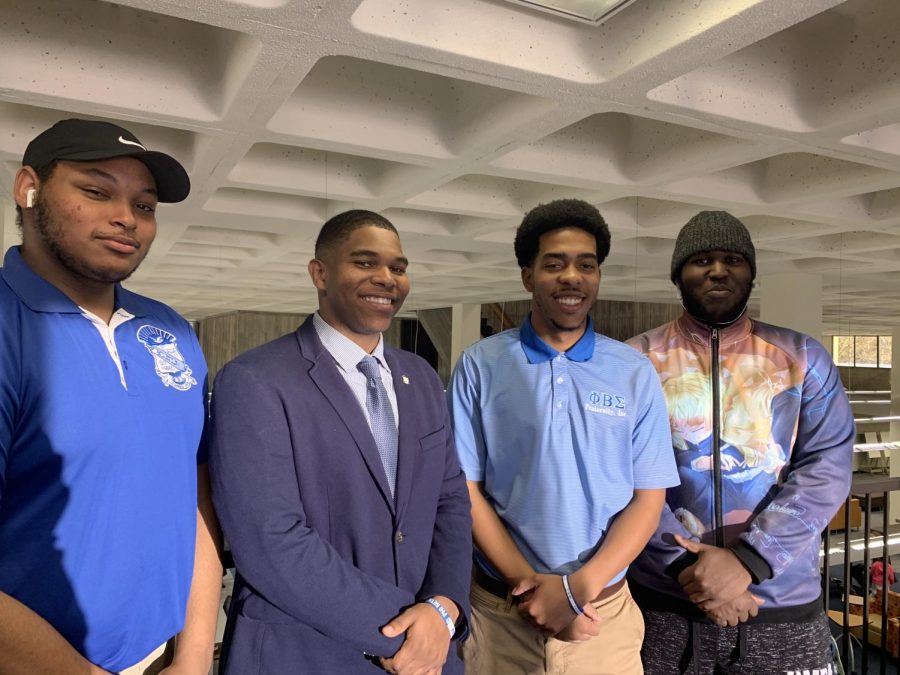 Home to nine historically black Greek National Panhellenic Council organizations, the Divine Nine at Columbus State University consists of the Alpha Kappa Alpha, Delta Sigma Theta, Sigma Gamma Rho, and Zeta Phi Beta sororities, as well as the Kappa Alpha Psi, Omega Psi Phi, Alpha Phi Alpha, and Phi Beta Sigma fraternities. This NPHC organization was founded on the unanimity of its members and their goal of equality and nondiscrimination on the basis of race. 
   "The Divine Nine is like an extended family outside of my real family. Despite whatever organization we are in or differences we may have, at the end of the day, we are and will be there for one another," says KK Smith, member of the Alpha Kappa Alpha sorority, about her experience. "Being around like-minded and well-rounded people helps bring a sense of community on campus and throughout the Divine Nine."
   Alpha Kappa Alpha focuses on the ideals of sisterhood and service, as well as developing high standards for its members as progressive women of society.
   "The mission of Alpha Kappa Alpha is to cultivate high scholastic and ethical standards, promote unity and friendship among college women, help alleviate problems concerning women in order to improve their social stature, and to be of service to all of mankind," states Smith regarding the sorority's objectives. 
   "Being part of a Divine Nine organization has helped me find inclusivity by welcoming me with open arms," shares Mikayla Golden, member of the Delta Sigma Theta sorority. "Being part of this organization allows me to reach out to students in the black community and give them advice."
   Golden stressed the importance of education in the black community, sharing her passion for promoting equality and eliminating prejudiced views surrounding black students.
   "Delta Sigma Theta is committed to the constructive development of its members and to public service, with a primary focus on the black community," she states. "We are always giving back to the community."
   Students who join the Divine Nine  see this increase in the sense of community and scholastic development, as many of the organizations focus on ideals such as sisterhood, brotherhood, scholarship, and service. 
   "Our motto is 'Service for humanity,'" says RaShaan Skrine, member of the Phi Beta Sigma fraternity. 
   "We work with organizations such as Susan G. Komen and Students for a Sustainable World to donate and help clean the community," adds Xavier Hall, fellow member of Phi Beta Sigma. 
   The brothers of Phi Beta Sigma also touched on the lessons they learned throughout their time in the fraternity.
   "This fraternity was the main way I was able to grow and mature. It taught me how to be responsible and how to time-manage, as well as financial literacy," highlights Hall. "Our brothers push us to come out of our shells. I went from being the person in the back to being able to talk more openly. I've worked for the community and been able to perform services."
   Phi Beta Sigma focuses on brotherhood, scholarship, and excellence, encouraging its members to explore aspects such as business.
   "We try to focus on businesses, especially black-owned businesses," states Chris Florence.
   "I'm thinking on a higher plane and focusing on the business aspect rather than being a stereotypical 'frat boy,'" says Skrine. However, the members of Phi Beta Sigma also stress the importance of brotherhood and friendship within their fraternity. "We're always together and always laughing. We've been able to form a tight knit group because of this organization," adds Skrine. 
   The Divine Nine focuses on breaking stereotypes surrounding not only race, but Greek life as a whole. 
   "Our goal is to reach Greek unity and break stereotypes. We encourage people to socialize with us, regardless of who they are," says Cam Willingham.
   "There's been at least one member of a different ethnicity from ours that has joined during every recruitment. We don't follow stereotypes and don't fit into a certain category," adds Florence. 
   "We try to push other organizations to also give back to the community and participate in their own events. We strive to take that baton and lead," says Hall. "People have their stereotypes and preconceived notions surrounding Greek letters, but you were a person before you earned your letters. We always try to include others."