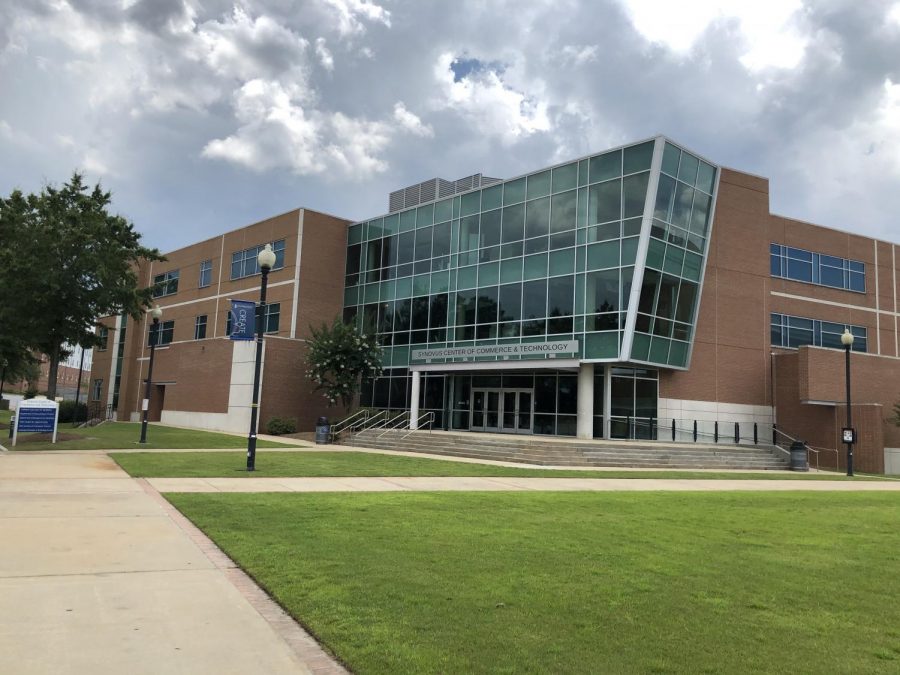 Target: President Chris Markwood, Columbus State University, CSU Student Government Association, CSU Provost, Steve Wrigley, University System of Georgia
   Shortly after the World Health Organization declared COVID-19 a pandemic in March of this year, CSU announced that the remainder of the Spring 2020 semester would be held remotely to prevent the spread of the virus. At that time, approximately 150,000 Americans had tested positive for COVID. As we approach the Fall 2020 semester, a total of four and a half million Americans have tested positive and more than 150,000 people have died from the virus.
   USG's decision to resume face-to-face learning is a threat to the health of all CSU students, faculty, and staff. While CSU is making some strides in preventing the spread of the virus on campus, a significant part of the CSU population does not feel safe enough to return. Over 140 CSU faculty members called for mostly online classes in an open letter directed at both CSU and USG administration.They stated a desire for labs and studios to meet if given proper safe circumstances by CSU.  The faculty senate voted to have President Chris Markwood deliver the letter to USG Chancellor Steve Wrigley. The next day, USG released a letter that reiterated the plans for in-person classes. 
   No one should have to compromise their health—or the health of their classmates, professors, roommates, or family members—in order to receive an education. We are asking that USG and CSU guarantee that students and faculty be allowed to do 100% online instruction. We want to remove any penalties for refusing to come to face-to-face classes regardless of official accommodations.
   We understand that certain lab and studio courses cannot necessarily be transitioned online, and that some lab and studio work requires equipment that is only available on campus. Additionally, some students may need to go to campus for tutoring or in-person office hours. We ask that CSU find safe ways to conduct certain lab and studio classes to allow flexibility for students. Students should still not be penalized if they cannot attend these classes in person, however. 
   Some seniors may be struggling to take all of their required courses due to limited course time and selection options for the upcoming semester. Going virtual would help these seniors complete their degrees in time, if those classes are held asynchronously. 
   CSU has the capabilities to go online once again. Professors were able to shift to online instruction within two weeks in March. With that experience, they should be more able to do so this Fall. It will be easier for professors to prepare now that they have the additional training and time to do so. We understand that online instruction is not necessarily as fulfilling as in-person instruction, but we are willing to compromise this because our health and safety is more important than returning to campus. 
Sponsors:
CSU SGA
Club for the Autonomy and Agency for All Peoples (CAAAP)
You can sign the Google Forms petition below to show your support.
Loading…
Signatures:
Ashley Peterson
Aaron George
Madison Steele
Brandon Short
Rachel Ramsey
Tyra Fields
Ian Bradshaw
Damarisse Owens
Shannon Godlove
Anonymous
Sahana Deb
Kindall Sellers
Yeluri Sai Akshay
Nameera Khan
Emily Miller
Asia Hill
Mikayla Golden
Benjamin Johnson
Michelle Creamer
Sulaiman As-Salaam
Natalia Temesgen
Alexandria White
Roydon D'souza
Anastasia Angelopoulou
Grace Diamond
Jarterria Duncan
Kendall Fritzky
Angela Pham
Maya Davis
Tracy Rois
Patrick White
Gherrod Diolosa
Victoria Young
Ernestine Young
Adriana Renteria
Jaylen Turner
Anthony Young
Luna lopez
Shamika Holland
Christian Roeder
Alexander Williams
Modesta Barker
Harrison Stokes
Joniya Davis
Christopher Morales
Kirin Wilson
James Hodges
Tiana Palmer
Zane Stauffer
Hansen Hardin
Madeline Harrison
Hunter Lewis
Autumn Grimes
Caleb Jackson
Courtlyn Holt
Hadley Gilpatrick
Willie Sykes III
Benjamin Weldon
Liz Spurlock
Jude johnson
Ricardo Brewer
Lydia Ray
Brian Schwartz
Shanaya Cook
Sonnet Moore
Shannon Adams
Lindsay Allison
Maggie Silvey
Kealan Neal-farr
Dustin Barker
Quanzerria Dupree
Justin Sanner
Julisha Fitzpatrick
Teresa Baker
Lateishae Stokes
Samantha Walker
Brandon Mitchell
Johnette Dorr
Diana Cruz
Ashley Hernandez-Salinas
Samantha Oliver
Claire Gaylor
Leslie Adah
Brianna Wilkerson
Jori Kent
Autrela Prime
JONG HA
Caitlin Melvin
Betrica Cook
Brady Stonica
Rebecca Simmons
Jessica Harris
Karen Bell
Jeremiah Skinner
Rebecca A Walker
Alexis Eubanks
Amy Eubanks
Steven Eubanks
James Jones
Dorie Griggs
Stanley Leary
Kayleigh Dickson
Brittany Williams
Stephanie Clarke
Dawn Baker
MyKayla Clay
Iris Saltiel
Shayla Foston
Michael Tolbert
Sarah Stokes
Mark Stokes
Caleb Reid
Mandy Cipolat
Jerrurod paul
Tierra Moore
Isaac Guest
Deambria Butler
Slover Morrison
Valerie Turner
Tommy C Turner
Valerie Turner
Tamara Turner
Tamara Turner
Ronnetta Ford
Tracy King
Carson Padgett
Susan Padgett
Lance Westerlund
James Fernicola
Anna Grayson
Justice Elijah
Tearnee Harvin
Juwann Swatts
Jasmine Bell
Bianca Dawson
Kendrick Anthony
Anthony Gray
Kat Fries
Chelsea Elijah
DJ DeBois
A G
Laquan Copeland
R Jones
Marci Norris
Anastasia Daniels
Brian Jacobson
ChristyElijah
Tamia McCoy
Jessica Butenhof
Jordan Woody
Jada Thomas
Zack Bolien
Chloe Turner
Wyatt Detrick
Ceminthia Graham
Jarrod Bolin
Sarah Watts
Shyrisse Ramos
Daphene Elijah
Jada Smith
Alexandra Daigle
Alex Hamm
Taija Horne
Ivey Milam
Jennifer Donovan
Kelly Williams
Maya Perriott
Dillon Smith
Jaylon Rease
Margaret Cook
Clarence Brown
Maya Edwards
Caroline Mitchell
Beth Brown
Juan Laspina Jr
Allen Mathew
Emma Shelhorse
Wil Windham
Nicholas McMillan
Emma Sirmans
Emily King
Nathan DeMarco-Jacobson
Jon Haney
Beverly Garland
Alaysia Brown
Nyeshia webb
Brandon Joiner
Thomas Ganzevoort
Angelica Rivera