CSU Students plan on having 'The Talk' on campus in a large protest event
Gabriella Castleberry and Victoria Buchanan unite to raise awareness on issues of racism in the world by hosting an event on campus.
CSU students Gabriella Castleberry and Victoria Buchanan are making plans to ensure that Columbus and the university campus continue the ongoing conversation on racial injustice and discrimination
Sophomore Digital Animation Major Gabriella Castleberry had the idea for an on-campus demonstration. Castleberry approached Senior History Major Victoria Buchanan with the idea because she knew that Buchanan would, "make time for whatever she needed to if it was meaningful."  Castleberry and Buchanan originally met during Panhellenic recruitment a semester ago. 
Initially, Castleberry considered doing a march. However, she and Buchanan decided that a sit-in style event preceded by a march would suit their objectives better. The two students had many details to nail down before their projected protest date in September. They quickly reached out to the Dean of Students and made sure to get the event officially registered with CSU. 
The Talk, so named because it will be an opportunity for Black students and members of the community to speak and explain issues of race, is officially registered under the Black Student Alliance. The BSA was recently established and this fall will be its first semester on campus. Christian Haywood, BSA's president, will be working with Castleberry and Buchanan to put on the event.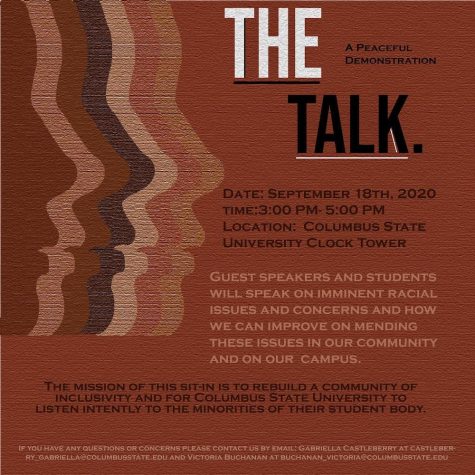 Castleberry cited the Freedom of Expression Policy in the CSU Student Handbook as a part of their planning. The policy ensures the rights of students to engage in freedom of expression activities in outdoor spaces so long as they do not interfere with the "other missions of the University." Buchanan and Castleberry first heard about the policy during orientation where President Markwood explained the rights of students to have these kinds of peaceful demonstrations.
 "There's no good time or place to have these conversations," said Castleberry. "But at the end of the day, these conversations need to be had everywhere: in the workspace, at home, with friends or family." Castleberry said that, despite the fact that there are many Black students attending CSU, they may not have many spaces where they feel comfortable. "When it comes to Black students, you only hear about Collegiate 100, Collegiate Women, NAACP, and the Divine Nine. One of [CSU's] core values is inclusivity, but it needs to be an act and not just a statement of words."
The Talk will consist of a march around campus, followed by several speakers from the community. CSU Dynasty, the intramural dance team, will open the event with a performance. Nina Rollins, a student involved with many student organizations including Team 58, will be one of the speakers. "We just feel like she's a really powerful speaker and is one student to make students sit back and think," Buchanan said about Rollins.
Stevon Lester will be another speaker. Lester is a member of SGA, the NAACP, and serves as the president of Collegiate 100.  
The Talk will also feature two spoken word presenters, Giovanni Thompson and Kayla Pipkins.
Buchanan said that the two are planning to reach out to Black owned businesses throughout this week to confirm their involvement. They are still deciding whether that will include advertising the businesses or having them physically present. 
The Talk will be on Sept. 18 and will begin at 3 p.m. and end at 5 p.m. They also plan to have tables set up where students can register to vote. Per the flyer, social distancing measures will need to be followed, and attendees must be either students or guest speakers.
Buchanan and Castleberry were both pleased with how smoothly the event is coming together. "The fact that it got approved and it's going so well so fast, I think really proves that CSU wants to make sure they are inclusive for everybody in the school."
"I just want students to come out and know that this is a peaceful event," Buchanan said. "This is for everybody, not just for Black students on campus. This is for everybody on campus to come and understand what the Black Lives Matter Movement is about. A lot of people don't understand it, and think that if you say Black Lives Matter, that means their life doesn't matter. That's not what we're saying in this situation."
Buchanan continued, "If we're going to be at a predominantly white school as Black students, we need to feel comfortable at our school and that our school has our back."
Castleberry affirmed this, saying, "This isn't just an event for Black people. White people need to attend as well; they need to learn and educate themselves. We are still educating ourselves every day on our own community and where we come from." She said they would not belittle anyone for not knowing everything, since Buchanan and Castleberry are still learning as well. 
Buchanan and Castleberry are both in sororities that are predominantly white, and Castleberry has heard sisters expressing that they wanted to get involved but didn't know how. "This event is supposed to make them comfortable enough to come out and be a part of the community and engage with Black students," Castleberry said. "And just say: Black Lives Matter. Yes, we know that all lives matter. We're not saying nobody matters. But Black lives need a little more uplifting."
Leave a Comment
About the Contributor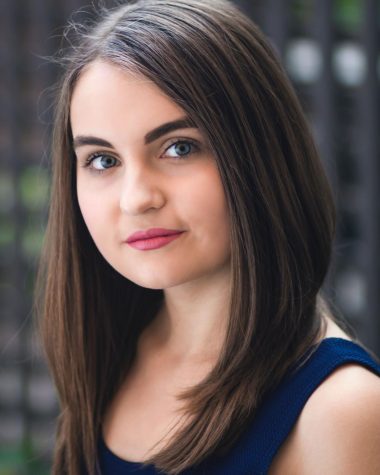 Ashley Peterson, Social Media Editor
(She/her) Ashley is a theatre major who loves to focus on issues that concern the community of Columbus. She graduated from CSU in Spring 2021,