CSU Libraries hosts their annual African American Read-In
   CSU Libraries hosted their annual African American Read-In on Thursday, Feb. 20 in honor of Black History Month. The event has been an annual recreation for at least 15 years. Light and healthy refreshments were offered, such as sandwich pinwheels, a fruit tray, and sparkling water. The event was open to all CSU students, faculty, and staff, and offered convocation credit for English majors. 
   The read-in was made possible by the faculty and staff of the library. Michelle Jones, the library's head of reference services, coordinated the guest speakers as well as the content. Emily Crews, outreach librarian, was responsible for the food and the advertisement of the event. 
   Jones recognized the importance of continuing the read-in tradition this year, stating, "This event is important to me because it is imperative that we continue to highlight literature —past or present— from African American authors. Some of these may not be in the literary canon, but are vital to African American history and culture." Jones said she hopes to increase student attendance for next year.
   "I really enjoyed this event because the awareness of African American history is highly important, and it brought attention to that matter," stated Senior English-Creative Writing major Madison Wright. Wright also enjoyed "how relatable each speaker was and their interest and commitment to spread the importance of African American culture."
   The MC for the event was Teddy Reese, an active member of the Columbus community through associations such as the Fountain City Bar Association, the Columbus Bar Association and the Columbus Inns of Courts. Reese holds a prominent role in the African American community through his work and achievements. Reese kept the event rolling and the spirits alive with complimentary introductions of each guest speaker, as well as his own comedic commentary at times. 
   The event hosted five guest speakers, all active members of the Columbus community as well as prominent African American figures in their own right: Sherricka Day, Rev. Marlon Scott Sr., Pat Hugley Green, Brya Berry, and Don Thomas. Each speaker presented a book of their choice that they felt was not only relevant to the African American community in Columbus, but also important to recognize for Black History Month. 
   Day, an employee and top volunteer of Aflac Company, started the read-in off with a discussion and brief reading of Isabel Wilkerson's non-fiction book entitled, "The Warmth of Other Suns," which highlights the historical Great Migration. As Day pointed out, the book describes the Great Migration as "a folk movement of incalculable moment." 
   Scott chose to uplift and empower African Americans with the choice of Dennis Kimbro's "Think and Grow Rich: A Black Choice," which encourages motivation and self reliance. 
   Green went a similar route in motivational choice with her pick of Stacey Abrams' "Lead from the Outside," which implies the importance of preparation as well as mentorship. 
   The youngest speaker of the event, 24 year old Berry, who works at WRBL in broadcasting, recognized a historical African American figure in her choice of Catherine Meeks' and Nib Stroupe's work entitled "Passionate for Justice: Ida B. Wells As Prophet for Our Time." Berry explained how she related to the passion Wells held and the awe inspiring determination of her investigations, as they are both in the field of journalism. 
   Thomas closed the session by reading aloud from memory some of Langston Hughes' famed work. Thomas recited Hughes' poem "Mother to Son," which he cited to inspire perseverance in him as well as reminding him of his own mother's struggle. Thomas finished with Hughes' "Dreams," which he hoped would inspire others to always strive for their dreams.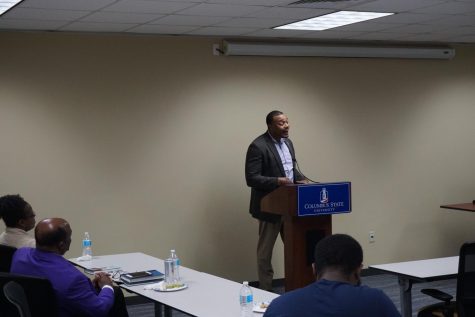 Leave a Comment
About the Contributor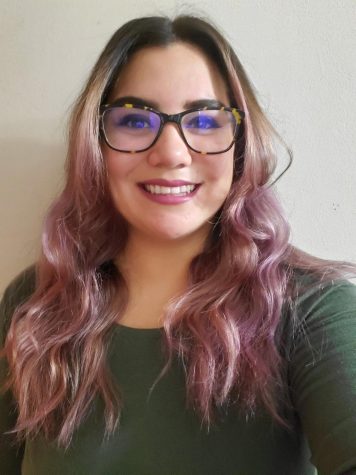 Paige Adams, Reporter
Paige is a reporter with the Saber at CSU and a senior English major. Her track is creative writing, so she didn't expect to find herself loving to learn...