CSU Music Professor Makes "40 Under 40" List
A Columbus State professor of music has been given an honor for her work with music education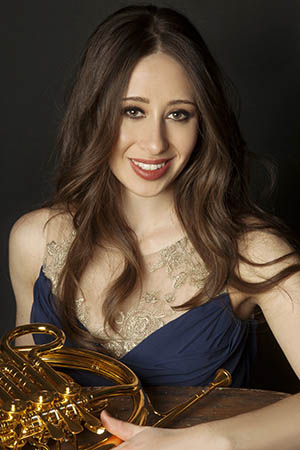 Photo from Columbus State University
At 29, Natalie Higgins, Columbus State University assistant professor of music and director of CSU's Schwob Horns ensemble, was recently named one of Georgia Trend Magazine's "40 under 40." According to the magazine, the award is given to the state's "best and brightest" in government, business, nonprofits, healthcare, banking, professional sports, and education.
Higgins was honored by the media company for her work with music education. Her educational activities include offering free music classes to high school students and providing additional resources to both high school and undergraduate students through a YouTube channel. Additionally, over the summer, Higgins helped create the Summer Music Festival for students who play brass, wind, and percussion instruments.
"Classical music is somewhat daunting, especially to young students. My goal is to inspire the next generation," Higgins told Georgia Trends.
Higgins currently holds a doctorate of musical arts from the University of Missouri-Kansas City Conservatory of Music and Dance, a master's of music from George Mason University, and a bachelor of arts degree from the University of California.
Candidates are nominated by readers throughout the state who know them well. There were more than 300 nominations this year, which has been the 22nd time the awards have been given.
Higgins shares the award with two others from Columbus – Julio Portilla, 37, executive director of MidTown Inc., and Trent Davidson, 32, franchise sales manager with Buffalo Rock, a food and beverage distributor in Columbus and Albany, Ga.
Leave a Comment