Private company Corvias pressures USG to make dorms less safe
  On August 5, 2020, Dr. Corey Goergen, Georgia Tech professor of disability studies and 18th century literature, tweeted publicly about an internal document from the USG Board of Regents that revealed the relationship between private corporate entities and USG to be preventative of CDC-recommended measures for the upcoming Fall semester amidst the COVID-19 pandemic. Student Kelly ONeal requested the letter through the Freedom of Information Act.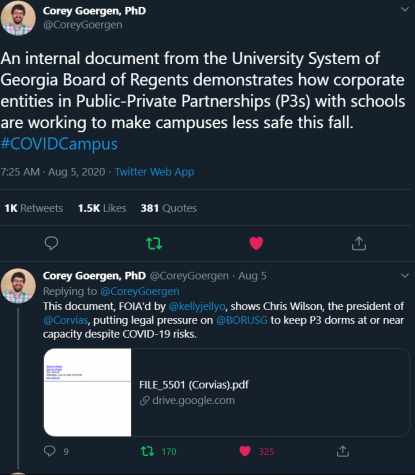 One of those companies is Corvias, which entered a public-private partnership with USG in 2014 for $517M. The deal concluded that Corvias would "develop and manage student housing for nine campuses across Georgia for the next 65 years," according to the Corvias News website. 
   At the time, Corvias described its new relationship with USG as "a proven model that protects the program's interests and partners in all aspects of financing, providing funds for upgrades, modernization efforts and the replacement or completion of USG-mandated projects."
   The agreement allowed Corvias to build almost 3,700 new beds on seven on the nine USG campuses, and they gained the responsibility of managing the new housing facilities for the 65-year partnership.
   A 2014 Georgia referendum allowed for USG to privatize some aspects of student life on campus, including dormitories and parking decks. 
   CSU is one of the universities that is part of a 40-year agreement. The partnership document allowed the construction of the 540-bed housing complex, Clearview Hall. The agreement strove for a "true first-year experience housing facility" and renewable energy initiatives.  
   On May 29, 2020, BOR received a letter from Corvias asserting that BOR cannot "take actions that prevent students or have the effect of discouraging students from living on campus." The letter to BOR also states that USG institutions cannot do anything that "materially interferes or negatively impacts Corvias' operation and management of P3 housing." 
   In other words, the contractual language in the public-private partnership between Corvias and USG and the Corvias position letter from May prevent BOR from reducing room capacity. The internal document reveals that BOR would invite a "Corvias dispute and legal challenge" if they were to attempt reducing room capacity.
   The document also discusses the BOR's unilateral decision to close all campus housing in Spring 2020. According to the document, Corvias did not cover or share in responsibility for this refund nor indicated a willingness to do so for Fall 2020 if housing is similarly closed for public health measures.
   The agreement between Corvias and USG does not require Corvias to provide refunds when on-campus housing agreements are terminated for public health reasons. Additionally, students cannot cancel housing agreements without a cancellation fee.  If BOR attempted to make a unilateral decision to allow for students to cancel housing agreements outside of events permitted by Corvias, Corvias would likely legally challenge BOR.
   The Corvias letter is attached to the end of the internal USG document. The letter reinstated that BOR does not have the right to make unilateral decisions to prevent or discourage students from living on campus, nor does it have the right to limit the number of students in housing or reduce housing fees.
   The letter reminds BOR of their 40-year arrangement and suggests that BOR's and Corvias' interests should be aligned. The letter reminds BOR that the Concessionaire of Corvias went $548M in debt in an attempt to annul $311M of BOR's debt, construct nearly 6,500 new beds, and to renovate 3,500 beds in total. 
   The letter also states that Corvias intends to follow CDC guidelines "as closely as possible." Corvias' reading of CDC guidelines makes it so social distancing is not required between roommates because Corvias considers roommates to be housemates. 
   Additionally, the letter states that Corvias "[does not] believe that [CDC guidelines] requires a reduction in the number of roommates…or the number of students that can be housed in a given building." 
   The CDC recommends that closed shared spaces such as dorms and communal halls add physical barriers between beds when they cannot be six feet apart. Residence halls are most at risk when they are open at full capacity, including shared spaces, and they are at a lower risk when those shared spaces are closed.
   The letter to BOR states that Corvias "believe[s] that a more appropriate course of action would be to do things like limit the occupancy and use of common areas, shared bathrooms, and elevators." According to Corvias, they are addressing the limitation of common areas already.
   Corvias added that limited on-campus housing does not benefit students or the University community because those students would have to occupy off-campus housing that may be more expensive or does not have the same public health procedures as Corvias in on-campus housing.
   Corvias has privated their Twitter account, and according to Twitter user @SarahLynneKline, their account has been locked since people started making complaints about military housing issues.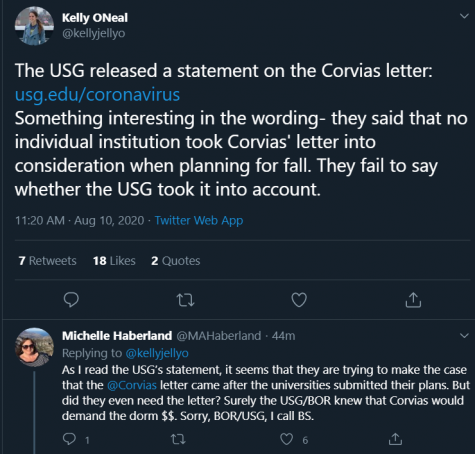 On August 8, 2020, USG released a statement on 'inaccurate media reports' regarding Corvias. "On May 29, USG received a letter from Corvias, a company that manages campus housing for nine USG institutions," reads the statement. "The letter stated the company's expectations for campus housing capacity and financial payment for fall semester, notwithstanding the COVID-19 pandemic."
   "No USG institution factored Corvias' demands into its campus housing plans for Fall 2020," the statement continues. The plans had already been submitted, nor did Corvias' letter cause any change, according to the statement. While stating that no individual institution considered the Corvias letter, the USG statement does not note if USG themselves took it into account. 
   "USG has been and remains committed to the essential importance of health and safety for students, faculty and staff," concludes the statement. "The system continues to follow guidance from DPH, CDC and the Governor's Coronavirus Task Force." 
Leave a Comment
About the Contributor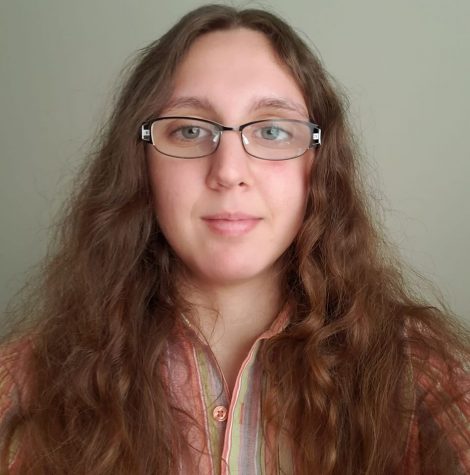 Jessica DeMarco-Jacobson, Senior Copy Editor
Jessica is an English Literature graduate who minored in History. Jessica started working as a reporter for The Saber/The Uproar during her first semester...