Southern Smash
Smashing Away the Idea of a Perfect Body Image
Many scales were smashed at The Southern Smash event located at CSU's clocktower on Feb. 24. This event was hosted by CSU's Counseling Center with the assistance of alumna, Erin Chalmers. The event aimed to battle negative thoughts on body image.
Chalmers, a 2019 CSU graduate with a degree in Psychology said; "I thought it would be super cool to bring The Southern Smash here because I have a close connection to the subject matter of eating disorders and body positivity and body image." The Southern Smash event allowed Chalmers to make a positive breakthrough for others in the CSU community going through a similar situation. She came across The Southern Smash event a couple years ago while in the search of a way to help others with disorders like this one.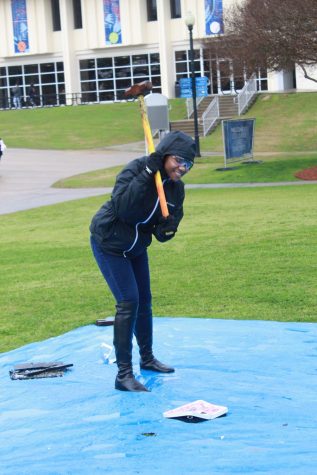 Chalmers worked to gather resources for the event and was even provided with a kit for the smashing of the scales by the founder of this program, McCall Dempsey. "I definitely had an obsession with the scale, and I brought mine today to smash," stated Chalmers. She also mentioned how a scale can take control of one's body and mind; "it's something that doesn't need to be controlling you."
College can be an awkward transitional phase, and students tend to think about their appearance and the food they eat, or don't eat; this obsession can become a toxin and an unhealthy addiction. Healthline, an online provider of healthcare information, mentions that being this addicted can cause worrisome students to doubt themselves and see things that aren't there. From break-ups to not being cool enough for their peers, anxious students can easily develop an eating disorder.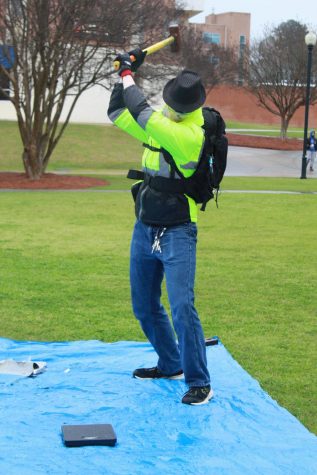 "Having friends that understand what you're going through and knowing that you're not alone," are a few of the ways that Hope Simmons, a senior studying Information Technology, said how she gets through her disorder. A good support system seems to be the most popular way to help these students love and find happiness with themselves.
Another student, Riley Tibbett, a freshman in the nursing program, has also been through her own ups and downs with this disorder. Tibbett goes through how her high school experience with this disorder had been a "struggle." She said, "the fact that I kind of have control of how I look and feel about my body kind of gives me some positive feedback." When asked about what she would say to others going through this same disorder, she stated that everyone, "boy or girl," should love themselves, no matter how they look.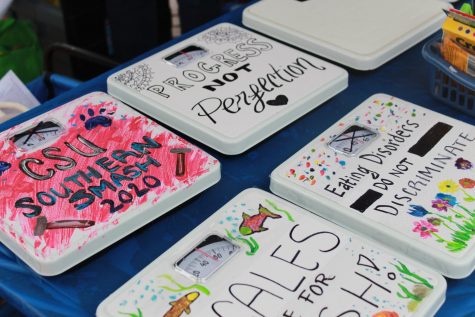 While the scales were left broken, the students of CSU left empowered and feeling good to have smashed a scale "that used to make me sad," Tibbett said. Each student was seen with a smile upon his or her face as they whacked these weighted scales and felt this passion to go on knowing that there are others out in the world that are just like them.
Melani Ozbolt, one of the counselors at the CSU counseling center as well as the outreach coordinator, mentioned how important it is to receive help for a disorder like this. She said that, "it is a very treatable disorder," but still important to get help immediately. Students can receive help from the CSU Counseling Center that is in fact free, which is located on both main campus and Riverpark campus. As Chalmers said, "build a support system, and always be open and honest about what's going on with you."
Leave a Comment