Opinion: Lost Amid the Craziness
A personal experience on navigating the frustrating student issues that have arised due to the COVID-19 pandemic.
   Hi, Paige Adams here, English creative writing major and fellow crushed senior spirit. As a student who was supposed to graduate this year and walk at this spring 2020's commencement ceremony, things have gone into a whirlwind for me with the online transitions. My case is a special one you could say, as I had appealed to walk early this spring and would receive my diploma pending the completion of my degree over a summer study abroad trip to Mexico. You see, my major is English, and my credits for that will be completed as of this spring semester. But I have a Spanish minor as well, and I was relying on the classes offered on my study abroad trip to graduate. 
   With the cancelation of all study abroad trips through the summer, I was left with the uncertainty of whether I would even graduate looming over my head and making me click refresh on my email, just waiting for more information. I've already lost so many opportunities and experiences that I would have gained in Mexico, and now on top of that I likely cannot even achieve the class credits I had planned for. So, now what? I am crushed by the postponement of graduation, and yet still not sure if it even applies to me anymore. 
   I hounded my professors over email; I reached out to my advisor in the English department, I reached out to my professors/advisors in the Modern and Classical Languages department, and requested independent studies and assistance in achieving this. At this point, I had seemingly exhausted my list of things I could do, receiving no consolation in responses as I was plainly told that If I was unable to find professors to offer me the independent studies that I need to graduate, then I would just have to come back in the fall 2020 semester when more classes are available. 
   "But I'm supposed to graduate before then!" I screamed this silently in my head as I've already typed it repeatedly over email to everyone I can think of that could help me. This statement crushed my spirit. The worst part being that my professors want to help me, but there seems to be restrictions in place preventing them from doing so. It came to my attention that professors can only teach up to two classes in the summer. Therefore, my independent study might put them over their cap. And even worse still, the only two classes I have been able to sign up for to count toward the credits I need, may not even make the cut if enough students don't enroll. They require a minimum of ten. 
   But why are these rules, that were made for the typical summer semester, still in place when the circumstances have completely changed? Can the university make no exceptions? We have been stripped of our plans, of our goals, and offered little to no resolve. Where is the support?
   My phone rings, a Columbus area code. 
   "Hello?" I'm confused. 
   "Hello, is this Paige Adams? This is so-and-so with so-and-so department at CSU calling as part of CSU's Create Care Team," the woman more or less says, so nice and helpful too. 
   But this woman can't help me, she doesn't have the ability to. I tell her my problem anyway. It's nice that she cares. She wants to help, I think. But then I begin to think she's probably just reading from a script and says she can submit a note on my issue, but I'd rather her just tell me how it is! Come on lady, just say it, "Yeah, you're screwed," but she won't. She puts in my note and I hear from my advisor the next day, presumably due to this note, who feels for me but just offers me a discussion nearly the same as the one we've already had, as he is part of the English department and not the MCL department. And there's the support I get, a valid attempt but of no actual help to me, unfortunately. 
   Everyone is busy, I get it. But so is my anxiety; it is busy torturing me. So, I sit in my virtual classroom, aimlessly hitting refresh, waiting for any address, hoping it will work out, but knowing there will be negatives that I'll have to accept. This is the reality for many amid the COVID-19 pandemic. We have such little control in our varying situations; no autonomy and yet no determination either, lost amid the craziness.
   But just as I had given in, resigned to my fate, an email arrives from the one person who can help me. Five days after my concerns were discussed with the polite woman on the phone the note was forwarded to my advisors, both for English and Spanish. And then finally, from the MCL department chair I received the in depth response I had been looking for! The response I fear I may not have gotten had I not communicated my problem to the woman I imagined was just reading from a script. And maybe she was, but her script got me here, and for that I am grateful. 
   And just like that, within the next two days, my problem seems to be resolved. I am registered for the classes I need to graduate as I had planned. What was changed in order for these things to be possible? I do not know. I do hope CSU is making the type of exceptions for the summer semester that I was hoping for just last week. 
   This all seems so petty to have fretted over now that it is resolved. But the back and forth and the unknown was exhausting. I have been dealing with this since even before registration opened. I have been in back and forth emails with several professors trying to figure out how to educationally make up for the loss of my study abroad trip since President Markwood announced the cancelation of all summer abroad trips over a month ago on March 13. 
   This issue is small in comparison to what is happening in the world around me, but it is grand in the generality of everyday life. We are experiencing these uncertain back and forth communications in school, at work, and at home, it is part of our current norm, which is not of any norm we have ever known. 
   There was no easy answer for me, and things could still change or go wrong. There will be no easy answers right now. Our realities are shaded by an opaque sheathing of uncertainty. If ever there was an answer, a solution, or any semblance of resolve it must just be to persist. Persist in your emails if needed, follow up with your advisors and professors. Persist with your employers, who may not be giving you the support you need. Persist in your daily life, wake up every morning and hold yourself to it, hold yourself accountable, and just do the best you can. I'm trying the best I can. 
Sincerely,
A statically exhausted, but persistent senior
Leave a Comment
About the Contributor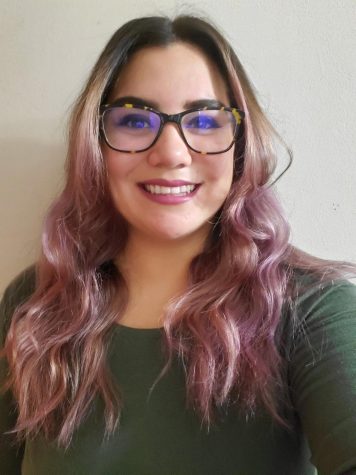 Paige Adams, Reporter
Paige is a reporter with the Saber at CSU and a senior English major. Her track is creative writing, so she didn't expect to find herself loving to learn...