Stacey Abrams visits Columbus, GA as part of her "One Georgia" campaign tour
The 2022 Democratic gubernatorial candidate speaks to Columbus citizens about her platform.
   Today, 2022 Georgia gubernatorial candidate Stacey Abrams visited Columbus, GA as a part of her "One Georgia" campaign tour. She spoke at approximately 11:00 a.m. at Jarfly, a restaurant located in Midtown Columbus. 
   Stacey Abrams ran for governor in 2018 and lost to Brian Kemp, who was secretary of state at the time. During the election, Abrams blamed Kemp for suppressing Georgia voters in order to win his victory.  Abrams previously visited Columbus in October 2018 and spoke at CSU's University Hall. 
   Since her loss in 2018, Abrams founded a political action committee called Fair Fight Action that "promote[s] fair elections around the country, encourage[s] voter participation in elections, and educat[s]e voters about elections and their voting rights. 
   According to The New York Times, Abrams built a network of organizations that caused 800,000 Georgia residents to register to vote.
   Abrams also authored a legal thriller novel titled "While Justice Sleeps," which was published in May 2021 and quickly became a NYT bestseller. The novel is currently being produced as a TV series. 
   At today's event, Abrams addressed several issues of concern to the Columbus community, including Veterans Affairs benefits, Medicaid expansion, and funding public education in Georgia.
   On the issue of VA benefits, Stacey noted that Georgia has 13 military installations, but criticized how "we have too many of those veterans who are living on our streets and not in our home." She spoke about predatory lending targetted towards veterans and the high suicide rates found in the American veteran population.
   Abrams then spoke about the Medicaid expansion plan: "Medicaid expansion is often dismissed by some. [People often say,] 'Those are just some poor people who need health insurance,' but it's so much more."
  "When the Medicaid program was created, it was created as a partnership between the state and the federal government," said Abrams. "The federal government put in some, the state put in some, and it helped everyone. But it said that each state can decide how much help they wanted to give. Some states have been generous with their support. But Georgia has been a miser."
   Next, Abrams commented on the public education system in Georgia. She thanked the educators who worked hard to ensure that their students received a good education in the midst of the pandemic. 
   "The governor needs to…lay out a path for where we're going and invest in the journey," said Abrams. "And unfortunately, this governor [referring to Brian Kemp] cut money from our state budget and did not fund our children's future." 
   "When we have finally decided to fund education, it should not be because you want to be re-elected," stated Abrams. "It should be because you know the children you serve deserve the investment." 
   Abrams then discussed the uncertainty that public educators face in their daily lives, talking about how teachers are never sure what decisions the school board will make. 
   "We need a governor that believes in the education of the whole child and investing in one state, investing in one Georgia where our children succeed," continued Abrams. 
   Abrams then noted that rural communities in Georgia are not receiving the resources they need: "But what I want to do now is make sure that it doesn't matter what your zip code is. It won't matter what your background is… We just have to have the willingness to grasp it, the work ethic to get it done, and the fundamental belief that we are all going to rise together."
   Abrams then opened the floor for questions, speaking first to citizens, then the press. One Columbus local asked Abrams to further discuss her ideas about Medicaid expansion. 
Another asked her opinions on public safety. Abrams replied, " I believe that public safety and criminal justice go hand in hand." 
   "Because the problem is, if you only focus on public safety, and you don't think about criminal justice, you're just making better criminals to come back and make us less safe," she continued. "I don't think we're that much more dangerous than New York, but the reality is we make money off of people's mistakes. 
   Abrams concluded her response: "Poverty and crime should not be a profit-generating enterprise in the state of Georgia, and so we have to decriminalize poverty."
   Abrams responded to more questions from locals, then moved to questions from the press. The Ledger-Enquirer asked Abrams about voter suppression in Georgia.
   Abrams responded with a rhetorical question for the audience: "So I'm gonna paraphrase him. And he did not say this, but why are they making it harder for us to vote?"
   She then proceeded to elaborate her response, saying that voter suppression in Georgia is a major issue. She stated that her campaign would focus on reducing the effects of this suppression.
   The Uproar asked Abrams about her plans to ensure the best future for public university students in Georgia, considering that Sonny Perdue is the current chancellor of the Board of Regents for the University System of Georgia and may oppose any reforms she planned.
   Abrams briefly explained how BORUSG operates. She then provided her response: "The Board of Regents are ostensibly an independent body that manages our school system. We know however that we have watched manipulation…We have watched an intentional dismantling of academic freedom and academic independence."
   "I'm going to work with Sonny Perdue the same way I worked with him when I was in the legislature," said Abrams. She explained that she knows how to work with politicians from other parties and that she and Perdue have a common belief that young people deserve the best education they can receive. 
   "We're gonna try to work together to get it done," said Abrams. "We are one of only two states in the nation that does not provide need-based financial aid to our students. That will stop when I'm the governor of Georgia." 
   Abrams also stated her intention to restore tenure for public university faculty in Georgia, referring to USG's recent decision in October 2021 to abolish tenure.
   Abrams then answered a local's question about LGBTQ+ issues in Georgia, discussing the recent "Don't Say Gay" bill that was passed in Florida. She denounced current anti-LGBTQ+ legislation being passed across the country then stated her intention to continue supporting LGBTQ+ causes.
   "I will protect the right to be who you are in the state of Georgia because we will be one Georgia rising together," concluded Abrams.
   Abrams' final statements were met with loud applause from the audience, and then the event came to an end.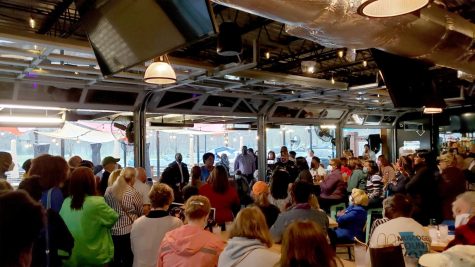 Leave a Comment
About the Contributor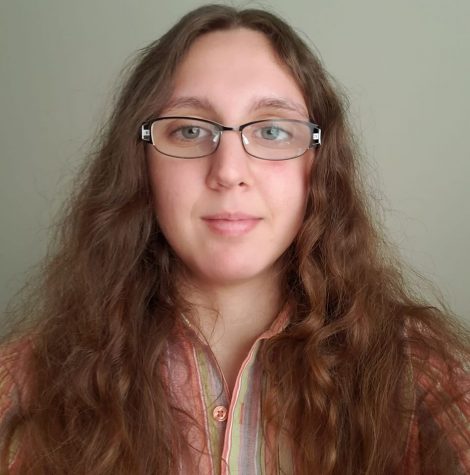 Jessica DeMarco-Jacobson, Senior Copy Editor
Jessica is an English Literature graduate who minored in History. Jessica started working as a reporter for The Saber/The Uproar during her first semester...