Health and Safety on Campus: CSU will require masks, frequent cleanings, and more this Fall, according to Return to Campus Forum
SGA hosted a Return to Campus Forum on July 28 to address changes occurring around campus in response to the ongoing global pandemic.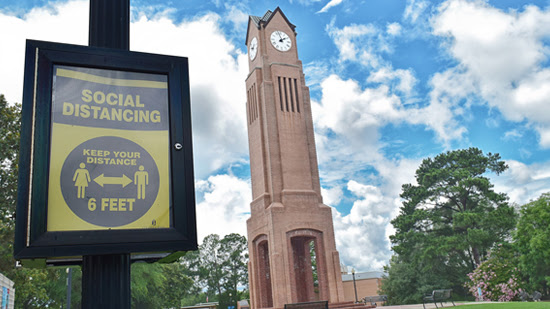 A panel of faculty and staff members fielded questions from students during the Return to Campus Forum last night as they presented plans for reopening. The forum was held on Zoom and began at 5:30 p.m. with faculty, staff, and students in attendance. It was divided into several sections and began with a focus on the changes to dining services before handing off to Associate Vice President of Student Affairs Dr. Chip Reese to discuss campus health and safety. Tensions and concerns over reopening continued to be voiced in the live chat throughout the forum.
   Dr. Reese spoke of the many changes that CSU will experience this fall. Firstly, he reiterated that masks would be required indoors at all times, except for when sitting down to eat in the dining halls. 
   Students will be provided with 3 masks bearing CSU's logo to assist in following this policy. According to the Cougar Kickoff webpage, the mask giveaways will be held on both campuses on Aug. 17 and Aug. 18, the first two days of class. Additionally, disposable masks will be available in campus buildings for those that may have forgotten their masks at home.
   When asked what the repercussions would be for those that refused to wear a mask, Dean of Students Dr. John McElveen said that they would initially be reminded of USG policy and asked to leave the area. 
   "If a student refuses to leave [and] we have to take further measures and refer to the student conduct process, we certainly will," McElveen added. "As with all of our disciplinary measures, we try to educate and inform first, but if we do have to elevate that to a more formal process to ensure [the] health and well-being of the community, then we will." 
   With regards to cleaning, Dr. Reese mentioned an 'electrostatic fogging machine' that would sanitize whole rooms while high-touch surfaces like stair railings would be regularly wiped down.  For students, Dr. Reese suggested utilizing a 'wipe-in, wipe-out' process, whereby a student would wipe down their desk and chair when entering a new class room and would do the same when leaving. CSU has also apparently ordered sanitizing stations for hallways between classrooms and dining halls.
   Dr. Reese also mentioned that there would not be campus-wide testing before reopening, citing CDC and Department of Health recommendations. The Student Health Center does not currently have the resources to administer COVID-19 tests. If resident students experience symptoms, they are encouraged to contact Residence Life, while non-resident students are encouraged to contact the Dean of Students. 
   The campus will allegedly be receiving several walk-through temperature scanners as well as around 60 wall-mounted scanners near building entrances. "Again, this is a self check, it's not a requirement," Dr. Reese said. "But it does give people an opportunity to do self checks as they are coming and going." If a scanner detects that a student does have a high fever, there will apparently be information nearby to inform them on what to do next.
   In the live chat, many students brought up concerns about the consequences of themselves or their professors testing positive for COVID-19. Given that one student may be in several classes, one person's positive test result could require several other classmates and professors self isolating to ensure they have not been infected as well.
   One CSU student, who asked to remain anonymous, echoed this sentiment on Twitter: "When a professor tests positive, does everyone in their multiple classes self quarantine for 14 days? Or will USG ensure day-of testing and immediate results? Who will ensure that those students are adequately quarantining in the meantime?"
   If a professor becomes infected, Provost and Executive Vice President Dr. Deborah Bordelon said that the administration had been working with department heads on a plan for their course. "The course will continue. We may look at some contingency plans, it may go online while that faculty member is not available to teach, depending on how that faculty member is feeling," Dr. Bordelon said. "We may have another faculty member step in to continue that course […]."
   "If a student is unable to attend class — for instance, if the student needs to be away from class for fourteen days — we have been working with the faculty, the chairs, and the deans on being very flexible with that attendance policy," Dr. Bordelon continued. "It may be that that student needs to continue in that class, but virtually as opposed to coming in." Dr. Bordelon mentioned that the focus on attendance this semester was not necessarily physical presence, but whether or not the student was engaged in the course. 
   Faculty members, both at CSU and across the state, have continually raised issues with the decision for face to face learning. Both on social media and in officially released statements, many faculty members have expressed that they do not feel safe returning to a classroom setting with Georgia's COVID-19 cases still out of control. 
   Students in the chat also asked why they would not continue online learning, but these comments were not directly addressed by panelists. 
   The forum went on to cover other subjects, such as campus events and financial aid. The entire video is available for viewing on Vimeo.
Leave a Comment
About the Contributor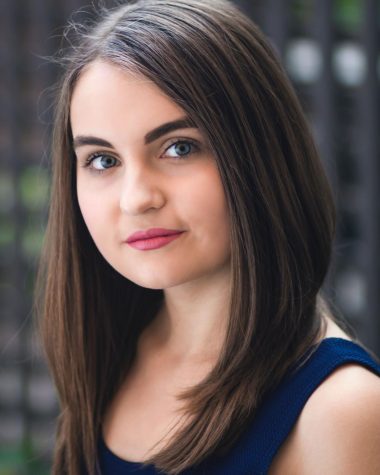 Ashley Peterson, Social Media Editor
(She/her) Ashley is a theatre major who loves to focus on issues that concern the community of Columbus. She graduated from CSU in Spring 2021,