Black-Owned Businesses in Columbus, GA
Businesses to Support Every Month of the Year
    Columbus, Georgia, is full of rich history and is an amazing place to live and work. There's so much to explore and discover in our big little town, especially concerning black-owned businesses. The push to support black-owned businesses has grown exponentially over the past few years in response to widespread systemic oppression and discrimination, specifically police brutality. Our very own Columbus has several black-owned businesses that students at CSU can enjoy and, at the same time, support and give back to the black community during Black History Month and beyond.
Restaurants
   Jordan's Girls Gourmet Dawgs: Located on Veterans Parkway, Jordan's Girls offers a "cozy, kid-friendly" environment and amazing hot dogs. Their menu includes the "scramble dawg" that was invented here in Columbus, vegan meat substitutes, breakfast platters, and desserts with dairy-free options as well. This restaurant is extremely affordable, with most of the dawgs costing less than $5, making Jordan's Girls a great spot to grab a quick lunch between classes.
   Mercy's Jamaican Kitchen: This restaurant's authentic Caribbean cuisine is "addictive" according to its website. This home for heart-warming soul food located on Milgen Road offers an affordable lunch or dinner option for CSU students who want to try Jamaican food for the first time or who already love the cuisine. With countless drinks and side options to add on to your entrée, you're bound to find something you love at Mercy's. 
   Thai House: Thai House offers amazing, authentic Thai cuisine to the citizens of Columbus. From curries to pad thai, Thai House's menu is expansive and holds something for everyone to order and love. Their physical location is on Whitesville Road, but you can also order Thai House through Doordash on the nights when you just want to order in. 
Clothing & Apparel 
   FIEcrū: Standing for Family Is Everything Crew and represented by an awesome dragon logo, FIEcrū sells urban wear for men, women, and children of all ages. They sell everything from hoodies and sweatshirts, t-shirts, hats, and sweatpants, to accessories like dog tags and tote bags. In the wake of the COVID-19 pandemic they sell masks as well, so you can protect yourself and others in style. Their apparel usually runs in the $10-$30 price range, which makes them a quality but also affordable option for CSU students. FIEcrū can be found on Instagram @fiecru and their website, www.fiecru.shop. 
   Yullis's Kouture: Specializing in apparel and accessories for all ages, Yullis's Kouture offers chic and stylish items at an affordable price. Promising the latest in fashion, Yullis's Kouture offers local shipping for any item you purchase. They can be found on Facebook and Instagram @yullisskouture and encourage their customers to share pictures of their purchases and tag them in their posts!
Health & Beauty
   Body Pastries: Body Pastries offers countless products in their online store. From bars of soap to hair care products in several refreshing scents, their inventory is truly expansive and of great quality. Their products are all organic and homemade, and great for those with sensitive skin! All the products are extremely affordable as well, making them perfect for yourself or maybe as a gift for your friend who loves soap. Body Pastries can be found on its website, www.body-pastries.myshopify.com, on Facebook under the name Body Pastries, and on Instagram @BodyPastries_. 
   Honey D's Honey Scrub: Online retailers like Etsy have become more popular within the last decade but have exploded since the pandemic due to the convenience of your handmade item being shipped right to your door, and people learning certain crafts during their increased free time and selling items they've made themselves. Honey D's Honey Scrub is an Etsy shop that sells body butter, beard oil, and more! They come in several fruity scents and are reasonably priced as well. The shop can be found on Etsy @HoneyScrub, and you can find them on Instagram @honey_ds2017.
   Blown Hair & Scalp Spa: Whether you want to get your hair done for a special event or just want a new look, the experts at Blown will help you get your hair looking the best it can! With expert consultations about the health of your hair and scalp available, you'll know that your hair is being well taken care of by a professional. You can book an appointment on their website, www.blownga.glossgenius.com, and follow them on Facebook @BLOWNGA and Instagram @blownbybella. 
   Whatever a CSU student may need, there's a black-owned business in Columbus that can offer services to help them. As we go through Black History Month and continue through the rest of the semester and the year, take the time to support these businesses and others not mentioned in this list. The COVID-19 pandemic is continuing, and so are the systems that keep black-owned businesses from succeeding as they deserve to. Remember that you can always do something to help and create change, and this list is just a jumping-off point. Happy shopping and dining, CSU students, every month of the year!
View Comments(1)
About the Contributor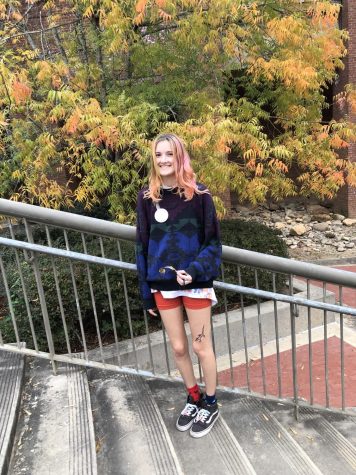 Fern Whitmire, Illustrator
Fern is a senior at CSU. Art major with a focus in painting and sculpture. Fern loves creating and having a good time.