CSU faculty over 65 will now be eligible for accommodations as reopening policies continue to change
After much pressure and discussion from faculty members last week, CSU faculty members over 65 will now be eligible for accommodations in the reopening process. Other reopening policies have changed as well, including a stronger focus on online classwork.
Last week, CSU's College of Letters and Sciences held a meeting with over 100 faculty members present, many of whom expressed their concerns over their senior colleagues' safety. At the time, Director of Human Resources Carole Clerie said USG's policies prevented the university from being able to offer accommodations to those 65 and older. 
Three days later, Human Resources sent an email stating that USG had "clarified" its position — those over 65 would be eligible for online accommodations.
"Just last week we had heard that we could not provide accommodations to individuals who were 65 and older," said Dean of the College of Letters and Sciences Dr. Annice Yarber-Allen. "And in short order, we can now do that. What those accommodations will look like, you will work with your chair and the dean on that."
Other policies and expectations have changed in the span of a week as well. 
Initially, the administration had been under the impression that they would be in Stage 2 of the return to campus by July 1, but that date has now been extended. 
Dr. Yarber-Allen also said that the faculty and staff furloughs called for several weeks ago would no longer go into effect. 
Another hot topic was the discussion of face masks. Many professors last week voiced their concerns over their inability to require masks per USGS, despite the fact that the CDC references face masks as being most likely to reduce the spread of COVID-19 when widely used in a public setting.
"The USGS says that we cannot mandate [wearing masks]," said Dr. Yarber-Allen. "But we can strongly, strongly encourage that students wear face masks. And I would encourage you to do that and try to persuade them. […] Not just for us, but for the health and safety of everyone on campus."
Dr. Susan Hrach, professor of English and director of the Faculty Center for the Enhancement of Teaching and Learning, recommended that professors direct their energy largely toward CougarView. 
"The best use of your time and energy for the next six weeks is to build as much as you can of your classes online, on CougarView, as a fully built online experience," she said.
Dr. Hrach explained that this investment of time would not go away, and that it would be the foundation for whatever flexibility faculty would need to have moving forward. 
"We think about our face-to-face classes this fall as value-added opportunities," Dr. Hrach continued. "So for the students that are really, really in need of that human interaction and want to see us in person, let's give [ourselves] to them in person […] without building so much critical course content or activity or assessment into that face-to-face time." She indicated that this would be more ideal in the case of another closure at some point in the semester, while also giving students an opportunity to get answers in person.
Dr. Brian Schwartz, Assistant Chair of the Department of Biology, also mentioned that students would be allowed to go by their preferred names in class discussions online. 
"I think this is really important, that students feel comfortable participating in a Zoom meeting or Collaborate meeting," said Dr. Schwartz. "They can feel more at home in that environment." 
Faculty members explored further possibilities for the fall, with a large emphasis on flexibility and student experience. 
According to Dr. Yarber-Allen, "One of the things that is clear: we have to remain flexible."
Leave a Comment
About the Contributor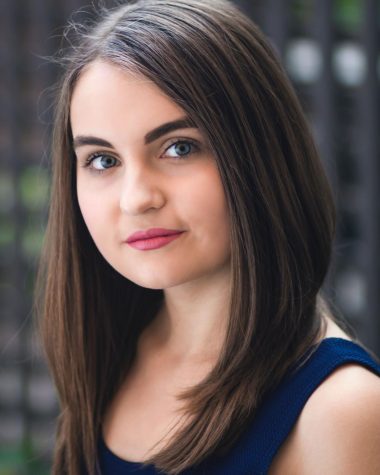 Ashley Peterson, Social Media Editor
(She/her) Ashley is a theatre major who loves to focus on issues that concern the community of Columbus. She graduated from CSU in Spring 2021,