Celebrating Women's History Month and International Women's Day
The history of celebrating women and where we are today
  March is recognized as Women's History Month in the United States, and March 8 is recognized as International Women's Day. Both observances aim to highlight the accomplishments of women in academic, political, artistic, and professional spheres, both in America and around the world. 
   As far as Women's History Month in the United States, its history is rather recent. According to the official government-run website for Women's History Month, it began with a resolution in Congress in 1981 to declare the week of March 7 as Women's History Week. The resolution was passed, and similar legislation was made every year to continue the tradition of Women's History Week. In 1987, with urging from the Women's History Project, Congress began to pass legislation that declared the entire month of March Women's History Month. Ever since, annual legislation has been passed and Women's History Month continues to be observed and celebrated. 
   This year, government institutions such as the Smithsonian, the National Gallery of Art, and the Library of Congress are celebrating by creating galleries and exhibits that display the work and accomplishments of American women. You can see these online galleries and exhibits at womenshistorymonth.gov and learn more about the American women that have made history and enriched America's culture.
   March also entails the celebration of International Women's Day, which has a much longer history than Women's History Month in the U.S. The holiday did first begin in the United States, though, on February 28, 1909 after a declaration from the Socialist Party of America. The idea soon gained traction in Europe during the 1910 Conference of Working Women in Copenhagen, where Clara Zetkin of Germany proposed the idea of an International Women's Day that was met with unanimous approval. The following year, the first demonstration for International Women's Day was held in Europe on March 19, 1911. The date was moved to the now still observed March 8 in 1913 to align with Russia's slightly different calendar, where their International Women's Day was held on February 23. 
   In 1996, themes began to accompany International Women's Day, with the first theme being "Celebrating the Past, Planning for the Future." The theme for 2022 was "#BreakTheBias," which aims to combat not only sexism, but racism, homophobia, transphobia, and other forms of bigotry. According to the official website for International Women's Day, the 2022 theme is meant to encourage people to imagine "a world where difference is valued and celebrated" and where bias is eliminated. Imagination can lead to action, such as calling out bigotry and bias in small, daily interactions or protesting against discriminatory legislature at local, state, and federal levels. 
   Columbus–and CSU specifically–have direct ties to some great women in American history. There is, of course, Carson McCullers, the famed novelist, Columbus native, and Columbus High School alumna. CSU's annual literary awards are held in her honor, and CSU's writing center is named after her. Her personal library is on display at CSU's archives, which are located on the ground floor of the Schwob Library.
   Another famous woman from Columbus is the prolific musician Gertrude "Ma" Rainey, known as the "mother of blues." She recorded with prolific musicians such as Louis Armstrong, and toured with her husband and other jazz and blue groups until she retired in her native Columbus in 1935. The home she lived in at this time is located on 5th Avenue and is open for tours to the public. The house is closed on Sundays and Mondays, but is open from the morning to the mid-afternoon Tuesday through Saturday. You can find more information about Ma Rainey herself and her home on the Columbus Parks and Recreation website. 
   Celebrations and demonstrations for Women's History Month and International Women's Day are held all over the world. On the International Women's Day website, there is a tab for events where you can enter your location and find events that are celebrating women's history near you!
Leave a Comment
About the Contributor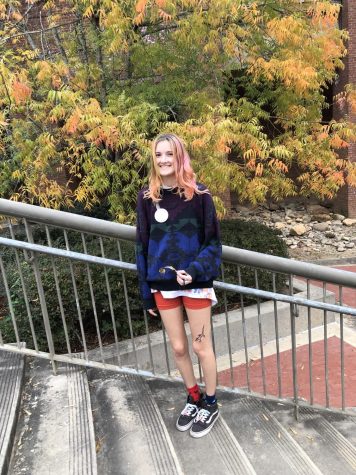 Fern Whitmire, Illustrator
Fern is a senior at CSU. Art major with a focus in painting and sculpture. Fern loves creating and having a good time.