And other news
Story and images by Toni Stauffer, CSU Alumnus
It stormed off and on all day on Saturday, June 30, but that didn't stop Chattahoochee Valley Pride (CV Pride) from holding their Celebrity Car Wash. Decked out in a black one-piece and sexy high heels, Candy O'Hara (C. Shawn Carter) managed the event with help from the 2018 Columbus LGBT Pride Festival volunteer group.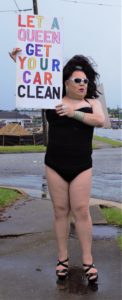 "We were so fortunate to also have many of the volunteer group's friends and family help as well," said O'Hara. "Logan Ledwick, Cody Bryan, and Garrett Ledwick were very helpful in collecting the equipment and getting it to the Captain D's on Macon Road. Nikki Mullins handled the "set-up" logistics as this was our first fundraiser car wash there. The marketing divas were Stella Drocko, Monica Starr (Brian Hopkins), and myself. Tony Seagraves and Kaleigh Coker were also a huge help."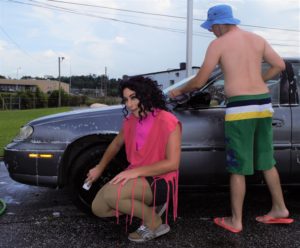 The group raised just over $150, only half of their goal of $300, because of the rain. O'Hara said they were not disappointed.  "As a 501c3, we accepted donations based entirely on what the guest felt moved to give," said O'Hara. "Many people just drove by to make a donation."
This year, the group expanded the event's services after purchasing a small generator to run a vacuum, which turned out to be a big hit. Guests also enjoyed having their dashes and windows cleaned with Armor-All and glass wipes. The group used the event as an opportunity to spread the word about the 20th Annual Columbus LGBT Pride Festival to be held Sept. 29 at Flat Rock Park.
Funds earned will go into a general-use account, but the majority will be used to pay for an unexpected cost for the festival. Although the annual event has always had designated security donated from the large pool of active and retired military, as well as law enforcement amongst the LGBT community, the permit now requires organizers to pay for security through either the Columbus Police Department or the Muscogee County Sheriff's Department, even though there has never been an incident. That is why the group has been hosting more fundraisers.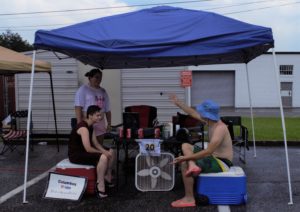 The next scheduled fundraiser is a "Rent-a-Space" yardsale being hosted and organized by the Facebook page, Columbus/Phenix City LGBT & Friends, a place to find out about volunteer sign-ups and meetings. Member Nicole Klassy is organizing the yardsale, which will be held at 2946 Grant Road on July 14 from 7:00 a.m. until 7:00 p.m. Tables can be reserved for $20, and that is the only cost to vendors. Anyone interested in reserving a table can email thevalleylgbtandfriends@gmail.com.
O'Hara hopes the group can host another Celebrity Car Wash before the festival. "We are in conversations with the property manager at Logan's Roadhouse on Manchester about using the property again this year despite the business being closed," said O'Hara.
The next volunteer sign-up and meeting will be at the Burger King on Wynnton Road, Thursday, July 12 at 7:00 p.m. The meeting is opening to anyone interested in volunteering for the fundraisers and the festival.