The Riverside Theatre Presents, "Milk Like Sugar"
During late Feb. and early March, Columbus State University's theatre department cultivated "Milk Like Sugar," a play by Kirsten Greenidge. "Milk Like Sugar" tells a story about best friends, Annie, Talisha, and Margie, who formed a pregnancy pact to receive unconditional love. Annie, Talisha, and Margie soon realized the difficulty of raising a baby and its demands. They quickly learn that babies are not just for baby showers and matching clothes. In the Director's note, CSU director, Elizabeth Reeves, described the play: "Milk Like Sugar is a story about babies having babies, trying to navigate a world that is systematically set up for them to fail."
CSU's adaptation of Milk Like Sugar opened up with West-African drums. The Sankofa bird, centered in the tattoo shop, lit up showing colors of red, green, blue, and yellow.
The Sankofa bird is a West-African symbol originated in Ghana. Its head is turned backward holding a yellow egg and placing it with the other eggs—this translated in the Twi language as, "go back and get it." Annie's African ancestor is heard in the sky as Annie (KiKi Ellis) walks along a path in the beginning of the play. He calls on her and asks, "black child, do you know who you are?" Although she did not feel special enough, her African ancestor served as her Sankofa bird to remind her she was loved.
The setting of the play is a tattoo shop located in the low-income projects. The tattoo shop is where best friends Annie (Ellis), Talisha (Aleigha Burt), and Margie (Melody Page) formed their pregnancy pact. The three girls used gritty vernacular and raw humor in conversation.
Assistant Director, David McCray, spoke about his experience working with kids like Annie, Margie, and Talisha:"The kids I've worked with use the same language, but it is not intended to be offensive. I, an African-American male myself, know the difference between them cursing at you and them cursing because it is part of their speech." Some hesitation existed, when CSU considered to produce Milk Like Sugar, due to the script and its representation of African-Americans.
Reeves explained, "I needed to protect our image; I wanted us to see them as humans, not caricatures." With that statement, she began revealing her thoughts about African ancestors and that the beat of African drums signify that, "we come from kings and queens." It was her mission to show beauty in "Milk Like Sugar" as she relayed the message to her all-black cast who were reluctant to perform the play at first, due to its representation.
CSU's adaptation of "Milk Like Sugar" found beauty in the stars. Malik (Will Oliver) was fascinated by the constellations in the sky. Annie had romantic interest in him, and he had aspirations of going to college to escape an oppressed environment. Though he liked Annie, he wished for her to find value in life the same way he did. He did not agree with the idea of being the father of Annie's child and felt pressured to settle down without establishing who he was as an individual.
Like Malik, Oliver explained how important it was to establish himself. He spoke of being put into a box in numerous CSU plays that had little to no diversity. He believed it was his mission to show diversity in playing Malik, he desired to show a young African-American man who attempted to better himself. Oliver aspired to solidify his voice as an actor. He stated, "There are more of us coming, and we will not be ignored."
The play portrayed generational curses in the African-American community. For instance, Talisha found affirmation in a cell phone given to her by her abusive boyfriend, who was a grown man. She found love in the things he bought her, but disliked the way he treated her. Talisha looked for her worth in men due to lack of love from her father.
Moreover, Annie's mother, Myrna (Debrinja Watts) was a mother who ignored Annie's emotional needs because of work demands. Myrna became pregnant her junior year of high school, and she was not supported by her family. Though she has a love for writing and it was a vital part of her work, she was illiterate and wasn't equipped with educational resources. She became irate when Annie challenged her lack of knowledge and kicked Annie out of the house later in the play. The mother and daughter dynamic depicted a mother punishing her younger self through Annie. Hence, the generational curse repeating itself.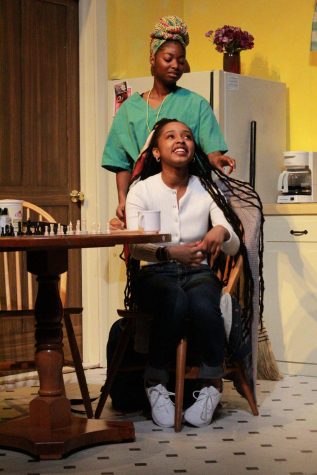 The play ended with Annie and Malik outside. Malik is seen with a shaul, a buttoned up white collared shirt, and black pants. Annie, now pregnant by Antowine (Robert Trammell) gifted Malik a repaired telescope she broke earlier in the play. He graduated from high school and acquired a scholarship to college, but Annie, discouraged more than ever, felt hopeless in her situation.
When Malik goes to leave for college, Annie says she remembered one thing about his graduation speech that inspired her: "The milk like sugar boxes on our cabinet shelves, it's not even real milk. It's powdered milk that looks like sugar given to us by our government. We consume it like it's supposed to be good for us, like we are happy, but it's rotting our insides. It's bad for us, but we accept it like it's good."
The voice of Annie's African ancestor appeared again as the all-black cast emerged and looked towards the sky. The poetic nature of the play reiterated hope and strength in the African-American community.
Leave a Comment