Find Your Balance
SAC hosts "Glow with the Flow Yoga"
    On Sept. 17th, the Student Activities Council hosted an event to help students try their skills at yoga in a relaxed and casual environment, in two one-hour sessions. The SAC provided free yoga mats for the first five students to arrive at each session.
    The rooms were dimly lit, and students were given glow sticks to wear while they practiced yoga.
    "The yoga class was such a good idea! It was altogether such a great experience and reminded me that I want to start doing yoga more," said Karizma Newman, a CSU junior.
    The Recreation Center on campus offers group yoga classes that are included in students''s rec center fees.. Michael, one of the group fitness instructors, leads the classes on Tuesdays and Thursdays at 12:30 p.m., and there is a class on Friday at 1:00 p.m., led by either Bree or Frances.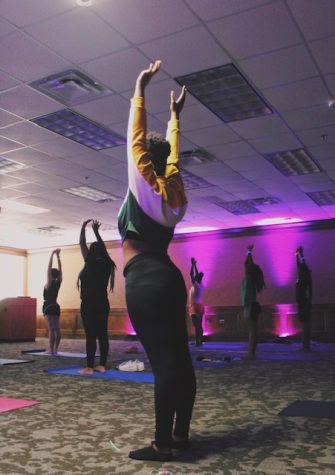 The relaxation techniques incorporated in yoga can lessen chronic pain, such as headaches, arthritis, and lower back pain, according to Dr. Nevins of the American Osteopathic Association. Yoga has also been proven to aid flexibility, energy levels, muscle toning, posture, and circulatory health.
    In addition to the physical benefits, yoga also has positive effects on mental health, which could be beneficial to stressed college students. Stress is known to have devastating effects on a person's mind and body, so maintaining that stress in a healthy way is crucial. Practicing yoga, even just a single session, can be immensely helpful for a body and mind reset. 
Leave a Comment