CSU Football Explained
What does CSU do with football?
    Columbus State University has a greatly involved club football team and intramural football team, but many students do not know about what this entails, or that the teams existed in the first place. CSU may not have nationally broadcasted football games, but their teams are passionate and perform well in the nation. 
    In fact, the Club Football team at CSU has just recently been titled number one in the country, even though they are the team from the smallest school in club football in the country. Middle Georgia State University comes in close as the second smallest, with about a thousand more undergraduate students than CSU.
    In club football, which is tackle football, the team competes against other universities. The team has forty-four players, with a majority of them from Georgia and 10 Columbus locals, which is "the most [local players] we've ever had," according to Michael Speight, the Intramural and Club Sport Coordinator at Campus Recreation.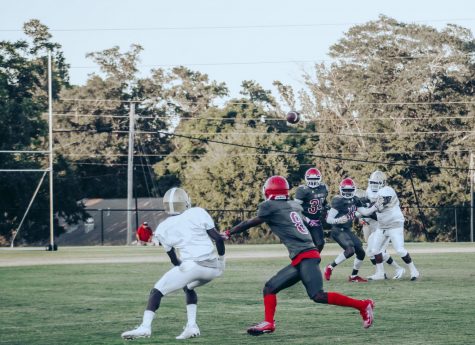 The player whose home is farthest away is Dujwan Washington, who is all the way from New Orleans. 
    "Our first goal is to win Southern Conference Championship, and the next goal is to win a National Championship," said Speight. The Southern Conference Championship is on November 16, and the National Championship will be in Wheeling, VA on December 7. 
    Club football had their final home game on November 9 at 7:00 p.m. against Fort Lauderdale University, where they celebrated "Senior Night". All games are free to get into with a valid CSU ID and reportedly attract 500-600 fans per home game. 
    The team is happy to announce that they were featured by the National Club Football Association (NCFA) for the offensive player of the week, Courvoiser King, Quarterback for CSU. The announcement said:
    "Courvoisier King had himself quite the performance this past weekend against conference foe South Carolina. He completed 8 of his 15 pass attempts for 161 yards and 1 TD and also added 3 rushing TD's. His performance helped lead Columbus State to a 31-0 victory!"
    They have been part of the NFCA for ten years and are celebrating their 10th year this year. You can read more about the NCFA teams, games, and schedules at ncfafootball.org. If you would like to get involved with the Club Football Team, you can visit the website through the Rec Center's website on columbusstate.edu. They do tryouts in early fall and spring, and have a football camp in August and in April. 
    CSU also provides an opportunity for students to play football recreationally, in Intramural Football. This is flag football and is played among students within CSU. Students participate in this for a variety of reasons. 
    "I'm in ROTC, which requires you to participate in a certain amount of university activities for 'points,' so I get points from playing," said Alison Thalacker, a CSU Sophomore. 
    "I'm there to get to know more about my sorority and my sisters, and to boost my resume," said Sierra Postell, a freshman on the same team as Thalacker.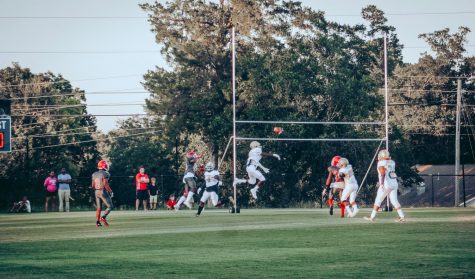 "We have more kids come to spectate with intramural, than participate," said Billy Jones, a Recreational Specialist at CSU who oversees intramural football and is essentially Speight's "right-hand man." He graduated from CSU in 2016, which has put him at CSU for ten years now. 
    "I think it's wonderful and I'm just there to support them. It gives me something to do," said Grace Babcock, a fan and friend of Thalacker and Postell. 
    "It gives them a chance to have social time outside of the school," Jones added. 
    These intramural football teams are valued by a lot of students, but are also subject to not being known about by the majority of the student body. 
    "We live in Clearview, and they practice in the intramural field behind Clearview so that's the only reason we knew about them," said Thalacker about the issue. 
    If you would like to sign up or get involved with a team, you can contact Michael Speight at speight_michael@columbusstate.edu or Billy Jones at jones_billy@columbusstate.edu. 
    There have been rumors of a large sum of money from tuition increases being put towards a new football team, but Speight has shot down those rumors as false. 
    "$3 million dollars would barely get us talking to the NCAA, let alone a football team," he said. 
CSU offers several other types of intramural sports, including lacrosse, ultimate frisbee, and bass fishing. A full list of them can be found on the intramural sports website. 
Leave a Comment