Staff Spotlight: Eli Schmidt
Eli Schmidt on his experience in the 2023 Student Juried Art Exhibition.
  Uproar illustrator Eli Schmidt's work was featured in the 2023 Student Juried Art Exhibition, which was juried by Elizabeth Elliot, a prominent Alabama curator of grass-roots and institutional-level exhibitions. The art featured in the exhibition was displayed from March 28 to April 25, 2023 in the Schley gallery of CSU's Corn Center for the Visual Arts.  
   Students participating in the exhibition were allowed to submit up to three art pieces of any media form from which the showpieces were selected. 
   The awards reception was held on April 25 from 5:30 to 7 pm. During the reception, the first, second, third, and fourth place winners were announced, as well as an honorable mention. All winners received monetary prizes for their work ranging from $50 to $400. 
  "While illustration and character designs are my usual focus, for this body of work, I wanted to explore my ideas through the use of painting techniques," Schmidt stated when asked about the inspiration behind his artwork.
  "Oil painting is something I never thought I'd get into, but through my time here at CSU, I've come to really enjoy it. Painting has allowed me to develop my work in full color and a style I would have never worked in before in my digital mediums. Although it's messy and mixing colors is time-consuming, oil paint has quickly become one of my main mediums to work in," he continued. 
   According to Schmidt, aesthetically, he is drawn to work of the medieval and pre-renaissance periods. "I love the leafing techniques in historic Catholic altarpieces and illuminated manuscripts. I'm also attracted to religious iconography and subjects of historic paintings, which is often mirrored in my work, especially these paintings," he stated. 
   The collection will feature a self-portrait created as a master study of the painter Robert Delaunay and his color techniques in portraiture, as well as a diptych of two wolves entitled "Predator and Prey."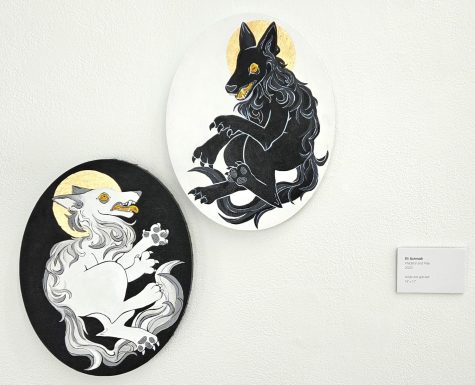 "My addition of the gold leaf speaks to a sense of enlightenment, but instead of a religious enlightenment, I see it as more of self-realizing my own worth and confidence," Schmidt said of the self-portrait. 
  "As a trans person, finally finding contentment in my appearance through hormone therapy has been a very personal journey that I'm proud to be on and show in my artwork."
  According to Schmidt, "Predator and Prey" was created in a style reminiscent of medieval family crests. He sought to merge both his illustration and painting practice, and these pieces are heavy in linework and the precision that Schmidt often works with outside of painting.
   Going forward, Schmidt plans to continue the themes present in this collection in his upcoming pre-exhibition as well as preparing for his thesis exhibition. Career-wise, Schmidt is interested in pursuing work as a concept artist for cartoons or a game company.
Leave a Comment
About the Contributor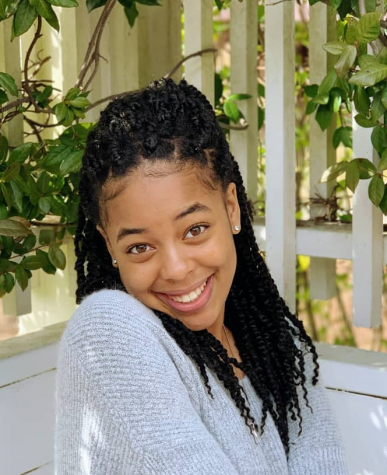 Destinee Williams, Editor-in-Chief
Destinee is a senior English major with a concentration in Professional Writing. She has a passion for writing about social issues that are going on in...