Verbatim: Getting to Know Dr. Jim Owen
Dr. Jim Owen is an English Professor at CSU. Originally from North Carolina, he has taught at the university level for 41 years, teaching at North Carolina State, University of Virginia, Peace College, James Madison University, Columbus College, and CSU.
Dr. Owen has taught at CSU for 28 years, and this spring semester marks his last before he retires. He sat down with The Uproar to recount his life as a musician, reader, literature professor, and friend.
Do you recall when you realized teaching was something you could see yourself doing?
It must have been during my first semester when teaching at NCS. I had been trained to do it. I sat in on other people's classes and had taken a course in the Techniques of Teaching College Composition.
I had never thought that was my path, but I enjoyed my first semester so much that I thought: "Well, this is something I can do." And I did. I didn't know I was going to do it for forty-plus years, but I did it.
Were there any Mentors you had who inspired you?
Oh, absolutely. You cannot make it through without other people helping you every step of the way. While I was at NCS, I had numerous people who were in my corner. A guy named Anthony Harrison, who was working on a project with Christina Rossetti's letters, had hired me as his research assistant. And even though I never took a class from Tony, he helped me out immensely with the whole process and convinced me I had the kind of brain that could go on and become a professor.
My 18th Century Professor at NCS, a guy named Jack Durant, was elemental in my getting accepted into UV. He was also a prime force behind my being hired at James Madison University.
At UV, I worked on my Doctorate under a man named Martin Battestin, who was at that time the World's Most Famous Scholar in the 18th Century Novel, particularly in Henry Fielding. He was working on the definitive biography of Fielding. From the moment I set foot on the UV campus, he took charge of what I would do from there forward. He was my professor, he was the man who formed the committee for my comprehensives, formed the committee for my dissertation, suggested my dissertation topic, and that was that. You cannot get from point A to point B on your own.
Your career requires much reading. What has been the effect of reading, of being a lifelong reader?
   I grew up in a house full of books. You could not walk through a room without tripping over books. Reading was just something that was naturally a part of my life. I was not reading for any reason other than pleasure when I was younger. I read a lot of science fiction, of mysteries, I just read a lot. And if I ever got bored, I would pull one of my dad's books and start working on it. I cannot overemphasize the importance of reading has had on my life.
Is there anything the Jim Owen then would be surprised about the Dr. Jim Owen of today?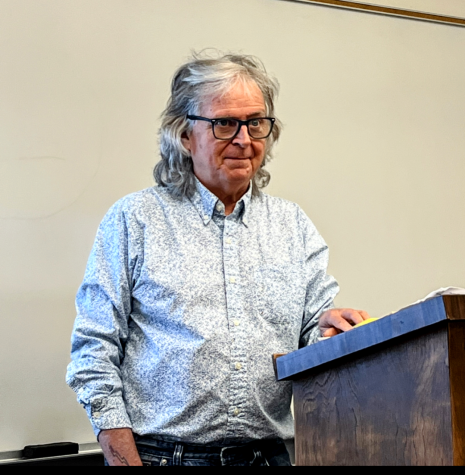 The guy who was the guitarist in the 70s would not believe that the one who is a College Professor in the 2020s would have kept a job at the same institution for 28 years. I was not interested in settling down in any place, but I'm glad I did.
Columbus has grown and changed interestingly. The RiverCenter had not been built yet. When I came down to interview, our college dean was a Jazz Trumpet player, Paul Vanderginst, and he had the blueprints of the RiverCenter on his desk. I thought, "Wow, they're really doing something here." At the time, the College maybe had 5,000 students, too.
But I learned to adapt over time, and my wife and I were happy here. You wind up doing things you don't imagine yourself doing and being happy. But, years ago, I never would have imagined staying somewhere for so long, but now I can't imagine leaving.
You are also a musician. What has been the lasting impact Music has had on you?
I played guitar for ages and played Folk and Rock music in Undergraduate School and Graduate School. It was always something I did. There were times when I thought about doing music and only music. But the retirement plan is not great. And there is no health insurance, and the hours are unbelievable, too. So, I'll say that it was better as a hobby.
Music has always been a backdrop to the rest of my life and it has been a major part. I can't imagine keeping my sanity without it. Music is the backdrop of the American Novel.
Now that you're heading for retirement, is there anything you'll miss about academia?
Oh, hell yeah! I'll miss the daily interchange with young people, with students. I'll miss that a great deal. I'll miss my colleagues. Even though I'm not moving away, per se, but still, it's different when you walk out the door and hand in your keys.
I can come back and have lunch with Judy and Barbra, and I'll still keep up with my friends, but the minute you're no longer a part of the system, there is so much that ends up going on that you miss out on. You're no longer on the inside of things. There will be a lot I'll miss.
What is a piece of advice you can offer to Students and aspiring Professors?
When I was standing out of the classroom, I was fixing to walk into 41 years ago, it was in the basement of Tompkins Halls at NCS, and I was getting ready to teach a class in Freshman Composition. I had on the standard outfit at those times – you wore a jacket and tie, and I held my notes carefully in my hand. I was nervous.
An older professor came by and said, "What is the first thing you're going to say to your class today?" And I said, "Well, I'm going to tell them this is where we get to change from high school level writers to college level writers." He looked at me and said, "Nah, the first thing you're going to say to your class today is 'Good Morning.'"
That's the piece of advice that has stuck with me the longest. A classroom is a conversation. The first thing you'll say to your class is "Good Morning." So, for forty-some years, I've said "Good Morning," "Good Afternoon," "How are you doing?" or "What's up?" It's the best piece of advice I've got.
Leave a Comment
About the Contributor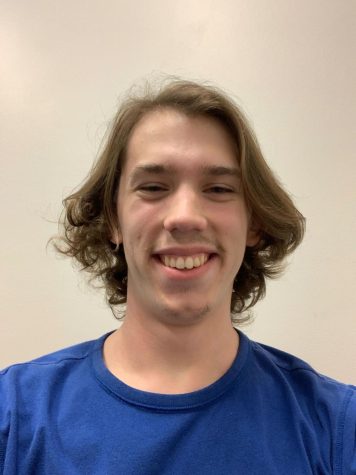 Jonathan Stringfellow, Reporter
Jonathan Stringfellow is an English Literature Major at Columbus State University and aims to be and English Literature Professor. He writes short stories...