Kota Ezawa: The Crime of Art
Artist brings back stolen paintings through his own exhibitions
Photos credits to Christopher Grimes Gallery
   Art theft is in the news almost every six months. There are over thirty-five stolen artworks, most of which are still missing. Artist Kota Ezawa creates a conversation about his work, which features re-contextualized historical events that are communicated with flattened, stylized images influenced by pop art.
  On Sept. 11, the Columbus State University art department held a reception for Japanese-German artist Kota Ezawa's exhibition, The Crime of Art, in Ilges Gallery. Gallery director Hannah Israel opened up the event with an introduction of the artist, who then gave a talk about his work and the stories behind the exhibition. His talk was then followed by a reception. Ezawa's exhibition will be in Illges Gallery until Sept. 22.
  Ezawa's first animation was in 2000, after his first daughter was born. They watched the popular children's show, Sesame Street, which he recorded and watched frame by frame. He then decided that he could do the same with his drawings.
  Ezawa's exhibition features a series of light boxes and video animations that tell the story of some of the most notorious art heists in the world. During Ezawa's talk, he explained that the oldest work in the room is a video, which is normally displayed next to Madison Square Park in New York. He combined nature scenes from various movies to create a "city of nature" to reflect the setting.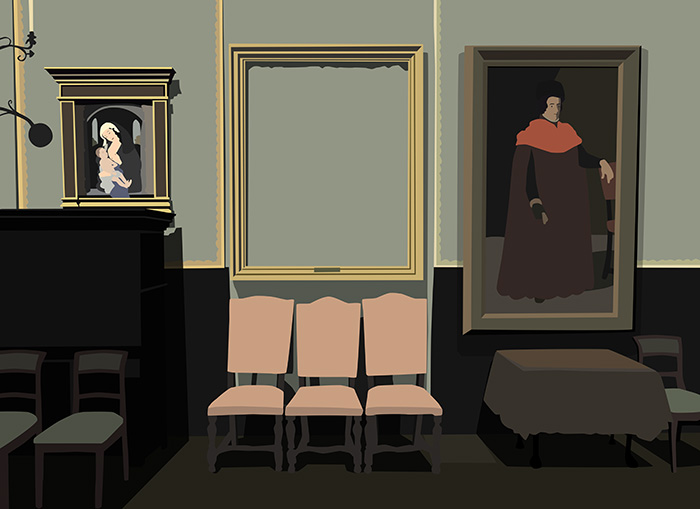 The main focus of the exhibition, though, is the group of llight boxeson the back wall that commemorate the thirteen stolen pieces of artwork, including those by Rembrandt, Manet, Degas, and Vermeer, that were stolen from the Isabella Gardner Museum in 1990.
  This project started for Ezawa in the summer of 2015, after he had just completed a different body of work. He started by looking at the FBI database of stolen art, which is available online for the public. Ezawa then decided to redraw these paintings in his own style, in which he breaks down complex colors and shapes into simple, yet realistic, suggestions. Previously, Ezawa had only worked with photographs, so drawing from paintings was a new challenge for him. "With every new project, I try to also give myself a new challenge or new problem," he said. Ezawa found Rembrandt's paintings the most interesting, making him realize that "they weren't just painters, they were the photographers of their time." The great artists of history captured images when there was no other way.
  In the fall of 2015, the surveillance tape of the thirteen paintings was released in an effort to capture the thieves. Ezawa described this as "really current, hot, breaking news" in the art world. In Ezawa's opinion, these thieves "must not have been trained artists, because they took random things that didn't really have much value." He had hoped that after releasing the surveillance footage, authorities would be able to find the artworks while his show was up, thereby completely changing the meaning of the artwork. Unfortunately, though, the stolen paintings have yet to be found, even today.
  To tie the exhibition together, Ezawa decided to create an animated film. The video was made especially for the exhibition in Santa Fe but is on display in the exhibition in Ilges Gallery. All of the scenes in the video are depictions of art heists from Hollywood films, including "Entrapment" and "How to Steal a Million." Because the footage was very complex, it took Ezawa ten months to redraw. He decided to leave the art objects that are stolen as original footage.
  Of this decision, Ezawa said, "Everybody is entitled to their own reading of this, but to me, it's a reversal. In this   film, the reality is this fictional cartoon, the art is the real thing, rather than vice versa. That's how I sometimes like to think about life, anyway."
  The name of the exhibition, "Crime of Art," comes from the book by French author Jean Baudrillard, "Conspiracy of Art." Ezawa said, "I feel that criminal activity and art are linked, and art and crime go hand in hand. Art is about breaking rules and breaking laws and going outside of the box. " In a way, through his own artwork, Ezawa is taking these stolen artworks, stealing them back, and handing them back to the public eye.  
Leave a Comment