Cat Café Comes to Columbus
Updated September 6th, 2019 at 8:57 a.m.
"Coming Soon: Coffee with Cattitude" 
A cute slogan for all those excited for Alley Cat Café coming to The Landings this fall. 
A cat café is a restaurant that allows customers to socialize, eat, and drink in one room and then move to a separate room where they can play with rescued cats from local shelters. The Saber met with the owner, Ally Lawson, to discuss how her dream of owning a cat café became a reality. 
It all started with a cat named Rosie. 
"She's just a little parking lot cat we rescued two years ago," said Lawson with a fond smile. That day, Rosie  was adopted into the Lawson family, who took her in as one of their own. "From there, it just kind of blossomed." 
Lawson originally had a job overseas in Europe that required long hours and routine trips that took her away from her home and family. Her husband, seeing the stress such a demanding job caused on their family, pounced on the chance to settle down, plant roots, and make a slowly budding dream of Lawson's come true.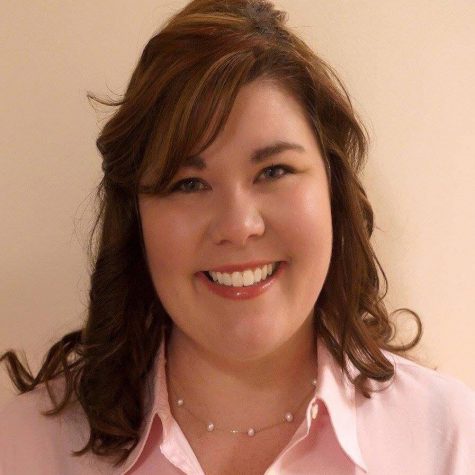 "This [cat café] was actually a birthday gift from him." Her husband secretly drafted the plans for this cat-themed café and surprised Lawson with them. "He was tired of me waking up at two o'clock in the morning and traveling every three months…we just wanted some change." 
The inspiration behind the café came Lawson's first name, Ally, and she is putting the "alley" in Alley Cat Café for the theme of her restaurant. "We don't want little fru-fru, pink, fuzzy cat rooms. We're going for more seedy alley cat for our death row escapees." Wanted posters will plaster the wall of these rescued cats with 'street cred' on display for customers to look at.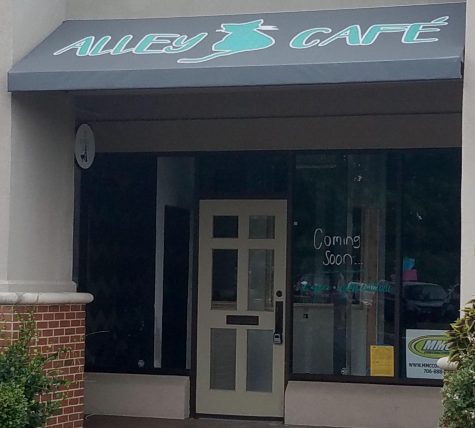 But even with her husband's planning and growing popularity of cat cafés, the road to fruition has not been easy.
Lawson has faced some challenges trying to open up her business. One challenge has been meeting the required health regulations to own a cat café. To meet these regulations, she has had to make several alterations to the building. One alteration was to enclose the entire cat room to prevent any hair or dander to reach the dining area. 
"We can't have even a stray hair float in there," remarked Lawson on the additional construction. 
Also, due to regulations, Alley Cat Café is required to outsource their foods. They are not allowed to prepare any food and must obtain their food items from bakeries that are licensed to sell food products to other stores. 
"They've limited us to wholesale bakeries and provided me a list. It's not very long," said Lawson, "it's one of our biggest hurdles, and we are still trying to fight it today." 
Despite these hurdles, Lawson is hoping to open her café by  Halloween or early November. 
A Look Inside 

Alley Cat Café will have a variety of menu options with various pastries and coffee choices. Lawson has partnered with Black Rifle Coffee, a premium veteran-owned coffee company. There will be a bar where beer and wine will be provided for customers who prefer an alcoholic beverage over a caffeinated one. 
Then, there is the cat room. Customers are invited— encouraged! — to interact with the cats that will be living in the adjoined room. Lawson has partnered with a woman named Pat Swift who runs a small rescue shelter for cats called Pat's Rescue Cats. Pat rescues cats from kill shelters and finds homes or foster families for them, and is a fierce advocate for the Trap, Neuter, and Release program for feral cats in Columbus. 
Swift has saved over 190 cats since last November, and Alley Cat Café wants to help Swift continue in her mission to save cats that are in lineup for euthanasia from shelters . Dubbed "Death Row Gangster Cats," these death row escapees will be hand-chosen by Swift for their affectionate demeanors. 
Lawson is planning on having a collar system in place, where each cat will have a colored bow to represent their behavior in the playroom. For example, if a cat is affectionate, there will be a corresponding color to alert customers on how to behave with that particular feline.
The Alley Cat Café will have between eight to 10 cats at a time that will be up for adoption. They will be up to date on their vaccinations and will be spayed and neutered. The adoption price will be determined by the shelter the animal comes from, and the café will be closed on Mondays to provide time to go through the adoption process for these cats. All the money received from the adoption will go back to the shelter that the cats came from.
To interact with the cats, there will be a $12 fee, which will go towards the care of the cats, such as litter, toys, and food. Due to the size of the room, there will be a reservation system in place. The reservation will be for an hour and up to 12-15 people will be allowed in the room at a time. Customers are not required to go into the cat room if they only wish to eat or drink.
Every month, the café will offer three different discounts available to customers to break free from the typical military or first responder discount. They will be random and announced at the end of the month, so students, listen out! There will also be a drawing anyone can enter with the chance to win a variety of coffee packs. 
Alley Cat Café wants to be a place open to the community and will be hosting a variety of events. They would love to highlight art— cat themed, of course—- and have open mic nights, as well as host paint nights with their paint instructor. 
While playing with cats and having coffee at the same time is a fun idea, Lawson stressed that her dream to open up a cat café was for a bigger cause.
"We want to raise awareness along with Mrs. Pat of the spay and neuter program for feral cats as well as the importance of spaying and neutering your animals. The shelter populations are huge due to the unfixed cats in the community, and they're suffering."
View Comments (5)