"I can't breathe:" Peaceful Black Lives Matter protest occurs in Uptown Columbus
On Sunday, May 31 2020, residents of Columbus marched in Uptown Columbus to protest against police brutality against black Americans.
During the week beginning with May 24 2020, citizens of Columbus organized a Facebook group titled "No Justice, No Peace" in order to begin planning for a peaceful Black Lives Matter Protest on Broadway. The protest began on the streets at 12 p.m. on Sunday, May 31 2020 directly outside the River Center parking garage and ended with a march to 13th Steet and back to the starting point. After the march, protesters shared their anguish and personal experiences. 
While waiting for more people to show up, the protesters held signs and chanted while cars drove by and chanted "Black Lives Matter!" and "I can't breathe!," the latter in reference to the murder of George Floyd, who was killed by a police officer that stood on his neck.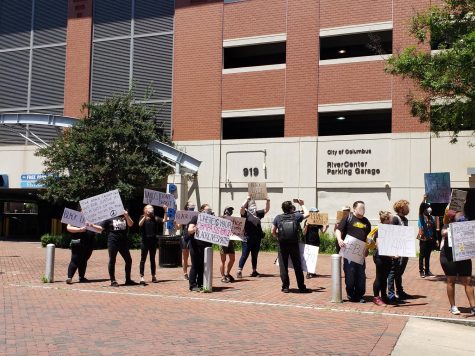 Soon after the protests began, two police cars drove up to the site of the protest. One policewoman came out of her car and said "We're here for you guys. We want to make sure you all are safe. Please don't disrespect the businesses that are down here." However, some of the protesters felt uncomfortable with the city's police force keeping a careful eye on them.
One of the protesters who went by the name of Dojo explained why he was attending the protest: "I am tired of seeing black people being treated like trash for no reason. We were born with this skin color, and we're getting treated like trash. We have to be the sacrifice to end all of this. Black lives matter."
"For far too long, my friends of color and people of color in general are not really getting the justice that they deserve. They're not being treated equally," said protester Cole Kiker. "We just saw with George Floyd…he was confronted for a bad check, and the police decided to crush his windpipe because of it, which is unacceptable. There wasn't any accountability until we did this riot. This isn't even the first, second, third or tenth time. We've been doing this for decades. We've got to stand up for our fellow friends." 
"We're here today to speak out against racial injustice," stated another protester. "George Floyd was the straw that broke the camel's back," she explained. "It's been over a hundred years of nothing but supremacy and people getting torn down just for the color of their skin. We're supposed to be one country under God; everybody is supposed to have equality, but that's not how it is."  
Later on during the protest, Columbus Chief of Police Robert "Ricky" Boren came to speak to the organizer of the march. "We're neutral. We're here to protect the rights of the individuals and their beliefs. We're here to make sure their First Amendment right is protected, but we're also here to protect the city of Columbus and to make sure there's no damage done to the city or injury to our citizens," Boren continued. "We've been assured this is a peaceful protest. Based on that, we're going to see [how it turns out.]" 
Boren and his team blocked the streets to allow protesters to march through the Downtown area, and stayed until the end of the event. 
Mayor B. H. "Skip" Henderson III also arrived at the event, driving in the passenger side of a red golf cart. "[The protestors] are angry. I'm angry," said Hendersom. "Anybody that saw the life squeezed out of that man should be. This is the way to initiate communication, and I'm here to support the [protesters]."
"Things need to change. It's important that people speak up. This is how things get changed, but people have to do it in a peaceful way," concluded Henderson.
Shortly after Boren and Henderson arrived to the scene, the protesters began their march towards 13th Street. While marching, protesters shouted "Black Lives Matter!," "I can't breathe!," and "No justice, no peace!" One protester walked with a drum to give a beat to the chants. Once the protesters reached 13th Street, they began marching back towards the starting point at the River Center parking garage. Once the protesters arrived back to the parking garage, they formed a circle and began speaking about their personal experiences with police brutality and racial injustice.
"I wake up in the morning and see a person just like me, who has an officer with his knees on his neck. And I say, 'Not again,'" said one of the protesters through a megaphone. "It makes no sense that I got to pray just so I can get to work. I want to think about falling in love; I want to graduate from school, but no. I walk around in life with a target on my back." The protester then passed the megaphone to another.
The protest was scheduled to end at 2 p.m., but many stayed to continue voicing their discontent with the justice system, racial inequality, and police brutality. 
Two other BLM protests are scheduled: one on June 6 and another on June 13.
Leave a Comment
About the Contributor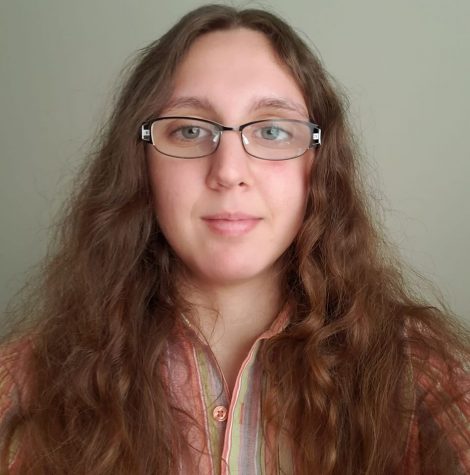 Jessica DeMarco-Jacobson, Senior Copy Editor
Jessica is an English Literature graduate who minored in History. Jessica started working as a reporter for The Saber/The Uproar during her first semester...