Job Loss and Transitions for Students
Students at CSU face job loss and changes in work amid the COVID-19 pandemic
   The COVID-19 pandemic has sent the world into a whirlwind with death, illness, and social distancing all looming over people as an imminent threat. This has resulted in closures, not only of universities like that of CSU, but of restaurants, bars, and many other businesses alike, leaving many students without work, or navigating work from home. 
   Originally, the governor of Georgia, Brian Kemp, released a shelter-in-place order effective Apr. 3 through Apr. 13, and now extended through Apr. 30, further restricting many businesses. However, Governor Kemp announced on Apr. 20 that some businesses would be allowed to reopen on Apr 24 and restaurants on Apr. 27. Many businesses have personally extended their closure or continue to offer only to-go services in efforts to protect their employees and customers with social distancing. Still, many other businesses remain closed or are being run remotely. 
      Some businesses have been able to move their employees to fully working from home, lessening the risk of exposure for many. This allows the worker a safe environment and the ability to maintain a stable income in these times of uncertainty. 
   Raquel Aponte, CSU graduate student working toward a Post-Baccalaureate Spanish Translation and Interpretation Certificate, works for CSU as an administrative and proctoring coordinator. Her job has been transitioned to working from home as well as her classes. As a mother of two, Aponte has found she has a lot to juggle all from home. "I do stay up very late working and doing school work, but for now I have been able to manage it all," commented Aponte. 
   Aponte, who lives together with her parents as well, has found their availability helpful in managing her work load, but has experienced increased anxiety about her family's health. "It is very important for me to make sure that I don't get exposed because my parents are in the 'high risk' category, and I don't want to get my children sick," stated Aponte. 
   Some students' jobs have not offered the possibility of working from home, but have been able to offer supplemental income to their employees as they are no longer working. 
   Senior English creative writing major Madison Wright works as a barista at Starbucks Coffee, a company which has been able to offer their employees the option of staying home while still receiving pay during this time. "I've decided since I have three siblings that are nurses and have come into contact with COVID-19 patients, I believe I should continue to stay home," Wright stated. 
   Many restaurants have remained open, running on a to-go only basis after being ordered to close and some continue to do so now, despite the permission to reopen. Running business this way helps to lessen the financial loss for the business and their employees, as well as to provide "essential" needs to their customers. Even still, this puts many employees and customers at risk of exposure. 
   Junior theatre major Hannah Reed works at Country's Barbecue in Columbus as an assistant front-of-house manager and has been included as part of a smaller staff that works to provide to-go needs to their customers. Reed stated that while the smaller staff is better for social distancing measures, still having "10 people getting together to work in a close environment isn't the best situation. In my opinion, we're just waiting on one of us to get sick."
   Reed added that while the staffing had been cut, business remained steady, putting her and other employees working more shifts to keep up with demand. Reed is grateful to still have an income but stated "I feel like I can lose my job at any moment," and also remains fearful of coming in contact with the virus. 
   "I live with my partner who works in a hospital for mental health, so he is considered essential. I'm scared I'll get him sick, and then he'll go to work unknowingly carrying the virus and get staff and patients sick."
   Very many others have fallen victim to total job loss and are finding it near impossible to maintain a source of income. "I sell blood plasma, and I cut the grass for my neighbors to compensate for sudden loss in income," said Mary Tipton, a Junior nursing student at University of West Georgia, who lost her job as a Peer tutor for UWG after the closures deemed necessary by the University Systems of Georgia. 
   Tipton stated that, "I save as much money as possible, but I still have to pay for things like my phone bill, gas, and school." Tipton added, "my employer is not offering any support to students who have had a cut in their hours."
   Tipton has experienced her workload combined with the isolation of social distancing to be trying, stating that "adjusting to a new school, work, and home schedule is difficult when there is no physical separation between them." 
   In addition to these transitions and loss of income, students have expressed worry that they are not being considered as part of the Coronavirus Stimulus Package that the federal government has put together as a "rescue package" for the economy during this time. The checks that are being distributed to citizens are based off of this year or the previous year's taxes. However, many students are filed under their parents as dependents as they are still in college and yet they will not even qualify for the $500 add-on as a dependent under their parents if they are 18 years old or above. 
   Reed expressed, "I also wish we as Americans could rely on our government to demand rent freezes and a UBI at this point," continuing that "the $1200 that most college students won't get anyway will only make a dent in the bills that are piling up on Americans that cannot work during this crisis." Tipton stated, "I'm not aware of any resources available to college students who are claimed as dependents." Support to the masses may be lacking inclusion of many college students who are struggling at this time.
Leave a Comment
About the Contributor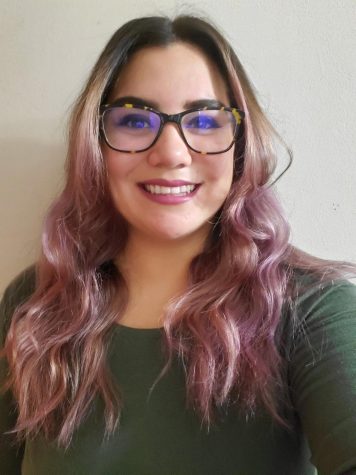 Paige Adams, Reporter
Paige is a reporter with the Saber at CSU and a senior English major. Her track is creative writing, so she didn't expect to find herself loving to learn...