Student Artists of CSU: Marshall Ransfield
Discovering Student Artists on CSU's Campus
   Columbus State University has many great student artists who excel in drawing, painting, photography, and more. The Uproar spoke with Marshall Ransfield, an Art major, to get more insight into how students channel their creativity. 
   Ransfield is a senior Art Major with a minor in Art History. His work recently appeared in the Spring 2022 Juried Student Art exhibition in the Corn Center. The installation, titled "Double Exposure," was a statement on the complexity and fluidity of gender outside of the traditional definitions imposed by society.
  According to Ransfield's student statement for the installation, "Double Exposure" was inspired by and related to his identities as a Māori, Jewish, and queer person. 
   "Double Exposure features plaster hands repeated throughout the space, weavings, cutting (carving), photography, paper, textiles, metal, found objects, and natural materials in an attempt to show the visual ways that gender is more complex and fluid than the artificial social structures make it seem," the statement read.
   "I use weaving to distort and change the image of the body, while using carving to censor and create patterning across my flesh in the images which are influenced by referencing the 'masculinity' and 'femininity' in traditional Māori arts. Fabric is important to my work through the way that it can morph, alter, or disguise one's appearance," Ransfield continued in the student statement. 
   Ransfield decided to pursue a career in the Fine Arts after considering undertaking a degree in Library Sciences. However, he soon realized that art played a crucial role in his life and self-expression. 
   "I noticed a lack of fine artists that I could relate to with my identities as a Māori, Jewish, and queer person, and I had wanted to make a change to that by using my attention to detail and love for art and art history through a queer, mixed-race person's perspective" Ransfield stated when asked why they decided to pursue a degree in Art.
   According to Ransfield, the purpose of their artwork is to showcase the beauty of being different from your peers and owning your identity. 
   "The message that my work conveys is a lot about being different is not as different as people think," said Ransfield. "Being queer is something that is beautiful and does not have to conform to social beauty standards or the expectations of the western societal gender binary structure (because transgender people have always existed)."
   "I try to create works that have a certain aesthetic that has some elegance or beauty that draws you in to look at it. I want my work to leave my audience with awe or confusion (in a positive way) because I want to be able to share experiences and to share the way that the world appears to me in my eyes as someone who seeks out the good in the world and investigates culture and gender through history," Ransfield stated when asked about the message their art is meant the convey. 
   According to Ransfield, his artistic aspirations include using art to discuss identity as a multi-cultural queer individual, giving people art to relate to, and selling his artwork to donate a portion of the funds raised to transgender youth and other communities. 
  Ransfield's upcoming projects include a student art show in April and the Senior Thesis Exhibition of Fall 2022. You can also find more of their work by visiting their Instagram page, @marshall.ransfield, or going to their website, marshallransfield.com.
Leave a Comment
About the Contributor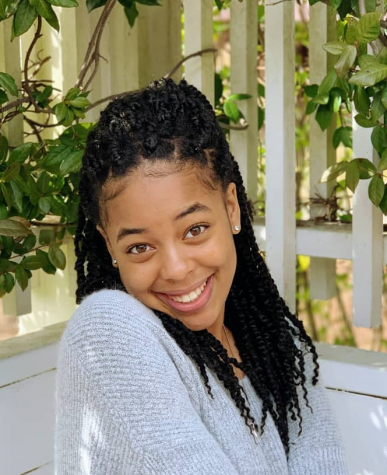 Destinee Williams, Editor-in-Chief
Destinee is a senior English major with a concentration in Professional Writing. She has a passion for writing about social issues that are going on in...