Joy Harjo headlines the Carson McCullers Literary Festival
This year's literary festival included readings and book signings from the US Poet Laureate, along with two other award-winning writers, Sandy Meek and Melissa Pritchard.
The Carson McCullers Literary Festival began with a reception in the first floor lobby of the Riverside Theatre Complex located in Uptown Columbus during the evening of 21 Feb. and 22 Feb. The US Poet Laureate, Joy Harjo, read selections of her poetry and performed the flute and saxophone.
Harjo began her poetry readings with a song to honor her Muscogee Creek ancestors, who have connections to the area. "There would be no Columbus without the Muscogee Creek people," noted Harjo. "We're still here making stories."
During her poetry readings and performances, Harjo shared her views on the importance of poetry and her work. Harjo remarked on how to understand any culture: "look at any culture…go to the roots for understanding whatever it is, and you'll find poetry, dance, and music hanging out there together."
Harjo read poems from her newest book, "An American Sunrise," and from a previous book, "How We Became Human." The audience enjoyed her work and provided ample applause for each poem. While reading her poetry, Harjo reminded the audience that "you don't have to be a poet to write," and that poets get their inspiration from everyday events.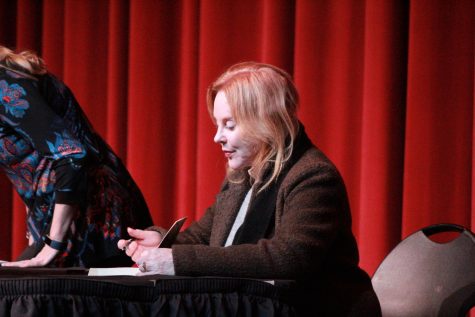 The second day of the festival included an early morning reception and a master class on fiction by the award-winning author, essayist, and journalist Melissa Pritchard. During the same time slot, the poet Sandy Meek, who has been published in "The American Poetry Review" and other major publications, taught a master class in poetry.
After a break for refreshments, Harjo taught a master class in poetry. At first, Dr. Norwood asked her a few questions about her writing methods; then the professor allowed the audience to ask Harjo questions. Harjo provided advice for aspiring writers of all ages by reminding them to change their path whenever they feel like they're stuck on a poem.
Jonathan Stringfellow, a freshman English literature major, asked Harjo if she intended her poetry to be influenced by the "flow of the river," and the "sequence of the tree branches," and she answered that "nature always affects how you speak, and it influences all forms of speaking."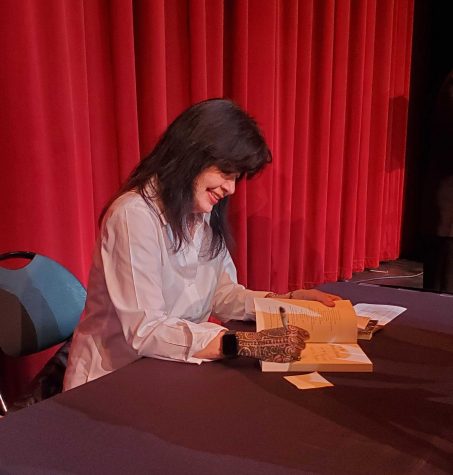 The festival concluded with the presentation of the Carson McCullers Literary Awards, in which both Columbus-area high school and CSU students could compete in the fields of poetry, fiction, creative non-fiction, playwriting, expository essays, and screenwriting. After the awards were presented, the faculty left a sign-in sheet for English convocation credit.
Stringfellow added that the event was "highly enjoyable and fantastic," and "to listen to Joy Harjo's poetry and gain insightful knowledge toward the creative form in writing" was a special privilege.
Leave a Comment
About the Contributor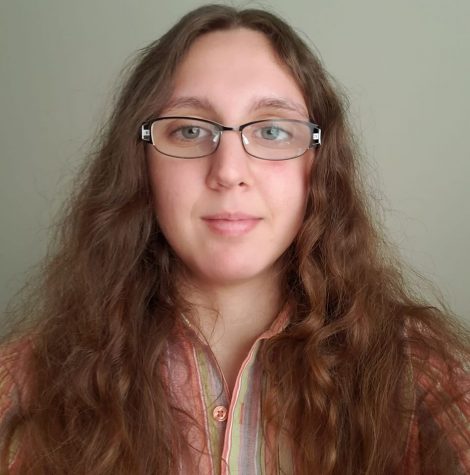 Jessica DeMarco-Jacobson, Senior Copy Editor
Jessica is an English Literature graduate who minored in History. Jessica started working as a reporter for The Saber/The Uproar during her first semester...